Do you enjoy playing board games? I've never been that interested in them, especially if they drag out for a long time. Also, with so many board games, it often feels like the same old game every time you play it. Well, my thoughts about board games completely changed on my last visit to see family in Ohio! My son introduced me to the game, Catan, and I am officially hooked!
During my visit, my son told me that he first learned about Catan when he was in high school. His best friend had the game and whenever he visited, they would play it with friends. Recently, my son decided to order it since his sons are almost old enough to play. Technically it's for ages 10 and up but my just-turned-8-years-old grandson understands it quite well and my 5-year-old grandson understands a lot of it–enough to join in. They aren't quite old enough yet to really strategize, but they have the basics down and love the game! Have you ever played Catan? (It's available here: Catan.)
The basic premise behind the game is players represent settlers who are trying to settle this newly discovered island called, Catan. During the game, players acquire "resources" they can use or trade with other players in their quest to build settlements and cities,  acquiring points along the way. The first person to reach 10 points is the winner.  It's so much more fun than that mini-description makes it sound! Catan has a huge following worldwide, there's even a United States National Tournament and a World Championship Tournament that takes place every year.
This is how the board looks during a game. Up to 4 players can play at a time, although the game is so popular, an extension has been created (in addition to other versions) that allows for up to 6 players. Oh my gosh, this game is sooo much fun and it's a completely different game every time you play. I love that! I enjoyed playing this game so much, when I played, I could not have cared less if I won–I just wanted to play! It's that much fun!
As soon as I returned home, I ordered the game so I'd have it here whenever family visits.
I had sooo much fun learning and playing the game while I was in Ohio for 10 days, while there I went online to look for any accessories or fan gear that I could find. When I find something I really love, I go all out! lol During my online search, I came across this awesome "Trading Post" that can be used with the game. I ordered it and we all loved using it!
It is the coolest thing! The lid becomes a box for tossing the dice. That was awesome since my grandsons (and sometimes the adults) had dice flying all over the place. lol Plus, there wasn't that much room left on the table for tossing the dice once the game was set up and underway.
Here's how the Trading Post looks once set up with the "resource" cards. These are used throughout the game and having a nice place to sort/organize them is wonderful! So much better than having them stacked in piles that keep falling over throughout the game. My oldest grandson is a whiz at detecting what resource cards need to be given out to each player as the game progresses. He LOVES being the "banker" and doling them out. This awesome Trading Post is available here: Trading Post for Resource Cards.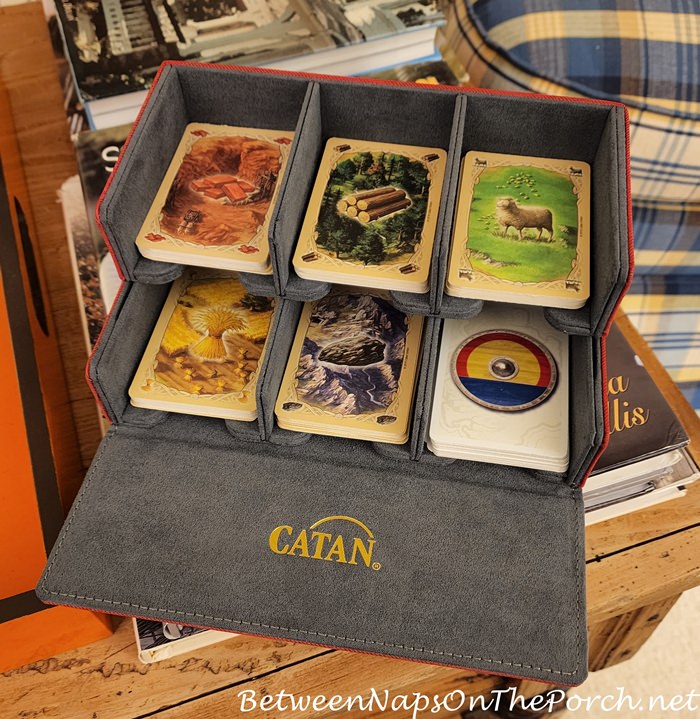 My daughter-in-law messaged me this photo yesterday of her playing the game with my youngest (5 years old) grandson. She let him be the banker since it was just the two of them playing and he was loving it!
In my online searches for anything Catan-related (I told ya, I'm hooked! lol) I came across these awesome, hand-crafted, walnut game piece holders. Instead of having the playing pieces sprawled out on the table, each player can have their playing pieces neatly organized so they can see exactly what they have at a glance. The man who makes these personalizes them however you wish and there are some hilarious ways you can have them personalized, depending on each family member's game style or personality.
I ordered them while in Ohio and paid a small amount extra to get them delivered quickly. The seller was amazing and literally made and shipped them the same day I ordered them, so they arrived two days later! Oh my gosh, they were a huge hit! My son, daughter-in-love, and grandsons were amazed when they saw them, especially when they saw how they were personalized! I got a lot of hugs and the delight on their faces was wonderful! If you know someone who has the Catan game, these make wonderful gifts.  They are beautifully made, I was so impressed with how perfect they were! They are available for purchase here: Game Piece Holders.
I am thinking of ordering another set of the personalized holders to keep here for when family visits. In the meantime, I ordered this set (below) that I found online after I returned home. They should arrive today. They are designed with a lid which I really like since it makes storing the pieces away really easy/efficient. Having the resource cards in the Trading Post box (shared earlier in this post) and having these storage cases for the playing pieces greatly decreases the time required to set the game up each time it's played. Definitely better than having to sort everything out each time! You know how I love organization and anything that saves time! This set of holders for the playing pieces is available here: Holder for Catan Playing Pieces.
While I was in Ohio, I also ordered these little stands that hold the playing cards. My youngest grandson had trouble holding all his cards when he had a bunch. He would drop them or forget and lay them down on the table where everyone could see them. To try and counteract that problem, he was using the lid of the game box, standing it up to hide his cards behind it. That created different issues because he kept knocking it over and had trouble seeing around it when it was his turn to toss the dice. Also, it made it hard for others to draw a card from his hand. The little cardholder trays solved all those issues! (Cardholder trays came in sets of two and are available here: Card Holder.)
You can see the cardholders in front of him in the photo my dil shared with me yesterday. The game had just started so he didn't have any resource cards yet, but they work great for holding them. I liked them so much that I ended up using one myself while playing.
Since I'm officially hooked on this game and am perpetually cold, especially when I'm in Ohio, I ordered this hoodie to play whenever I'm visiting family. ? I found it here: Catan Hoodie.
I also came across this t-shirt and loved it! You know how much I love cats so this was a must! It can be my summertime Catan playing shirt. ? I found it runs a tad small, at least it does in the woman's sizes, so if you order it, you may want to order one size up. It's available here: Catan T-Shirt for Cat Lovers.
I had to share this game with you because it is a blast to play! I love how playing it takes a bit of luck and a lot of strategy. Really, every game is winnable and every game is so different from the one before because of how the board is laid out differently each time. I really love that about it! If you're looking for a birthday gift or future Christmas gift for the game lover, definitely recommend it. You'll find it available here: Catan.
Here's a fun video describing how the game was created: How a Dentist Created the Game, Catan.
*If a post is sponsored or a product was provided at no charge, it will be stated in post. Some links may be affiliate links and as an Amazon Associate, I may earn from qualifying purchases. *
.