Many years ago I was having my mostly-brick home painted and I was trying to choose a paint color for the eve sections, dormers, and the back of my home, all of which are not brick. One day while out running errands, I spotted a house that's only about a mile from my home that was the perfect shade of yellow. One day I got brave, knocked on the door, and asked if they would mind sharing the color. They were super nice and commented that they get asked that question all the time. I can't remember the color now, but I ultimately decided to go with white since that's the color I was painting the screened porch that was being added at the same time.
A few days ago, en route to HomeGoods for a bit of shopping, I drove right by the pretty yellow house since it's located on a road that is a convenient back way to that shopping area. As I passed by, out of the corner of my eye I caught a glimpse of what appeared to be a Little Free Library. I've been obsessed with little free neighborhood libraries for many years and have been hoping to some day add one to my front yard. You may remember this one that I saw on a Christmas Home tour a few years back.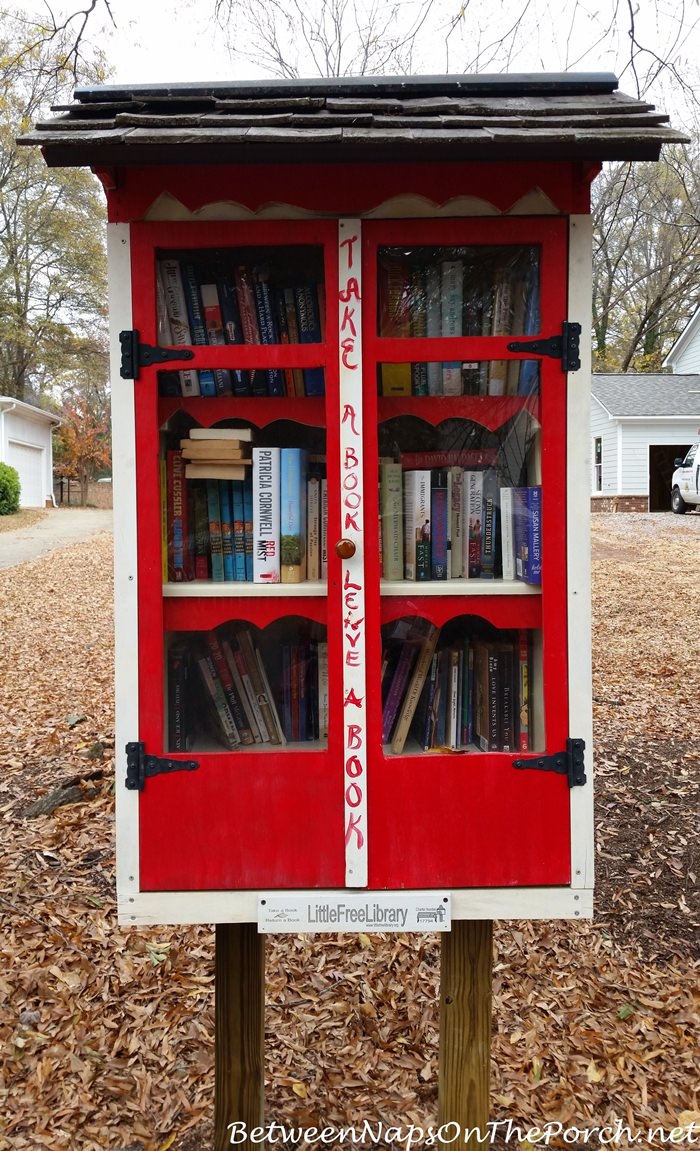 This was another one that I spotted while on vacation in Key West many years ago. Not sure I've ever mentioned this but I worked for 5 years as a Media Parapro in my son's elementary school library when he was a student there. I have always loved books and libraries, so the idea of a wee library that I could fill with books for my neighbors and their children to enjoy fills my heart with so much joy!
While on my way to HomeGoods, I made a mental note to myself to go the same route back home so I could get a better look at the Little Library, but of course, I forgot. Today while running another errand, I remembered and decided to go back by and take some photos to share. I easily found the Little Library again and it was indeed in front of the yellow cottage I love so much. From the quick glimpse I got as I passed by, I could tell the library was just as delightful as the home. I couldn't wait to get a closer view!
Most of the Little Free Library plans I see online are built with a shed roof but I really prefer the type with a gable style roof. I parked my car on a side street that was just a few feet away and got out of my car to walk back to the Little Library to snap a few photos.
As I crossed the street to walk toward the library, I noticed a truck was moving in the driveway of the yellow house and it appeared to be about to leave. Standing at the foot of the driveway, I could see the library further down the walkway and I loved how it looked!
I paused a moment as the truck came down the drive. It turned out to be the homeowner, David, and I introduced myself telling him how much I loved his home and the little library out front.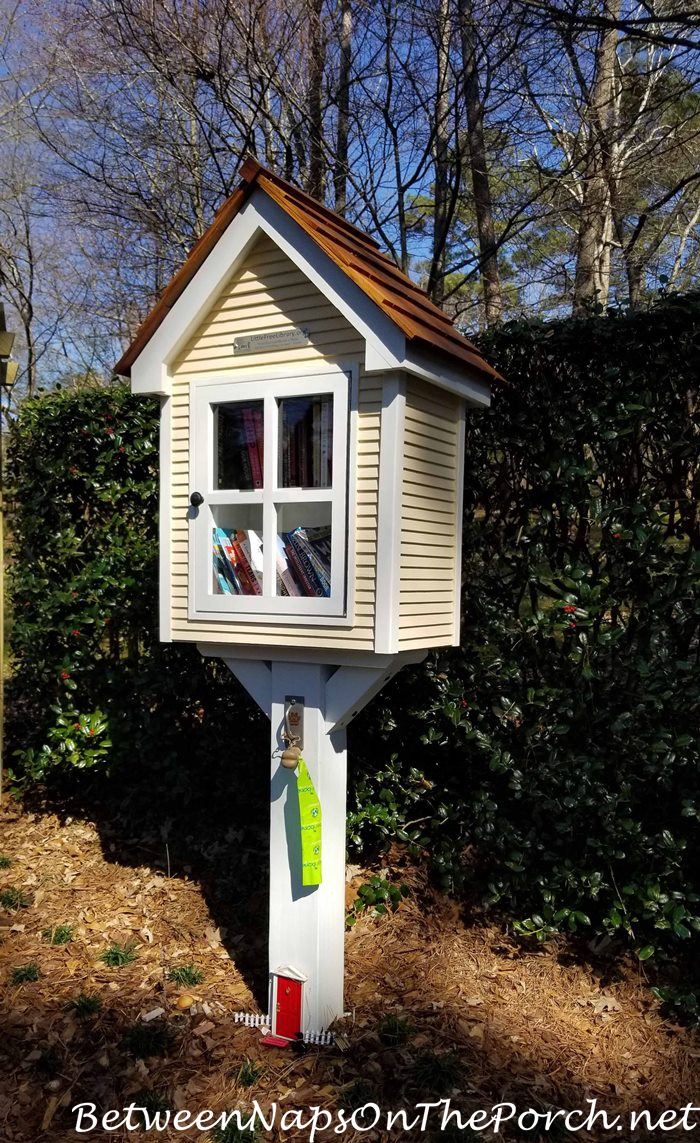 I mentioned how much I would love to add one to my yard for my neighborhood. David shared that he had built theirs and that it had turned out to be quite the project. I asked if he ever took requests and if I could hire him to build one for me. He answered by saying that there are libraries online that can be purchased. I knew what he meant, I had seen those, too–but I hadn't liked any of the ones I had seen available. As we talked, he didn't say no, but he didn't yes, either. He just said it had definitely turned out to be a bigger and more expensive project than he had initially thought it would be.
In the course of chatting, I learned that he owns his own construction company and does home remodels/renovations. What?!?! You guys know how I'm always saying I need to remodel both of my upstairs bathrooms. As we talked, I was starting to feel like this encounter was meant to be! He gave me his business card and I will definitely be contacting him to get an estimate for future bathroom renovations. Several of my neighbors have done this in recent years, so I really need to start getting estimates for that work and I will definitely call him for that.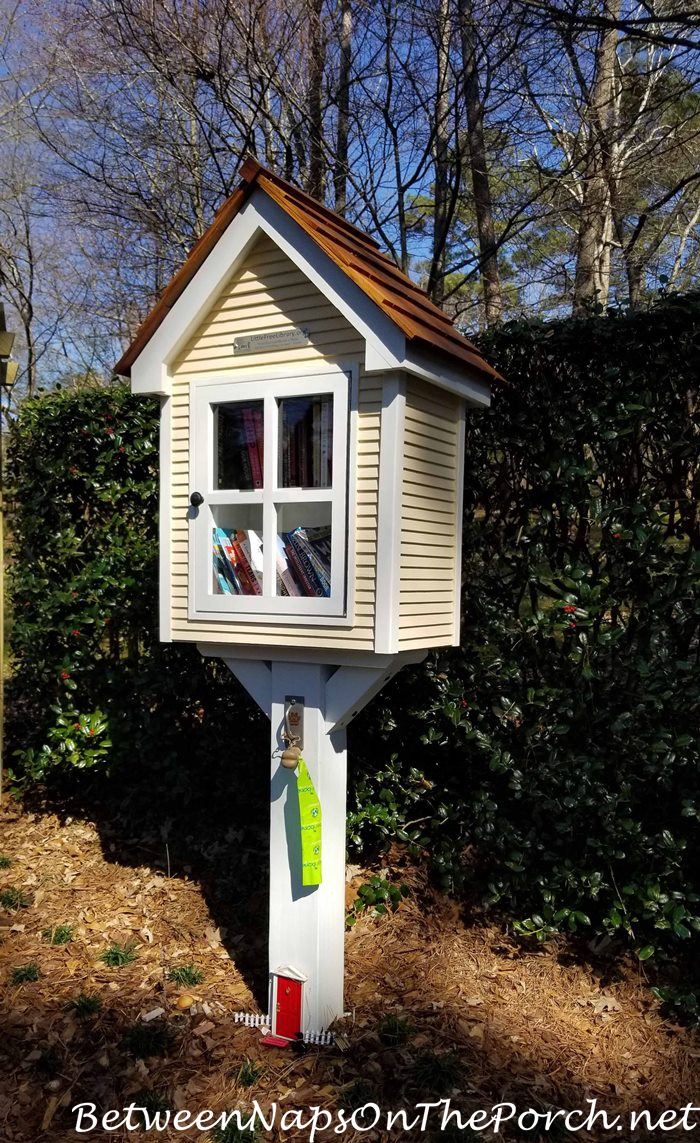 So let's check out this absolutely adorable library! It is exactly what I have pictured in my head whenever I've imagined adding a Little Free Library to my front yard! Is it not just perfect?! ♥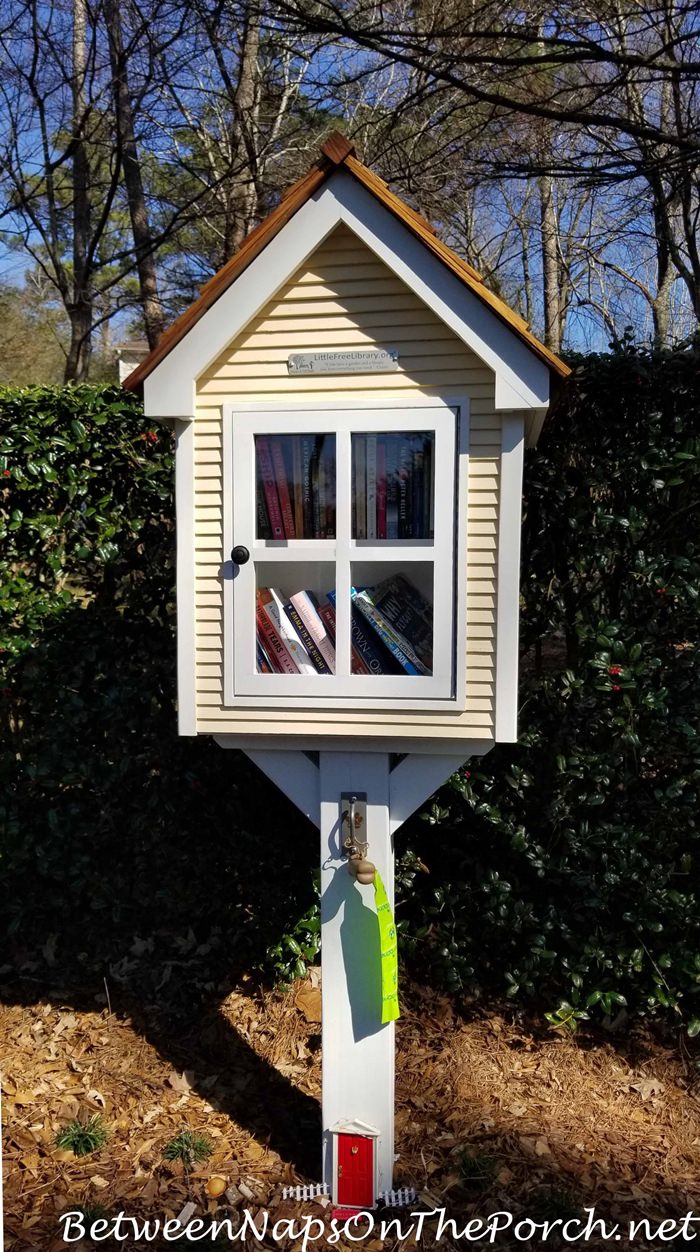 If you've been following BNOTP for a while, you will remember when I shared the little dream cottage I would be happy to retire to one day. Unfortunately, this is only a playhouse, but a real house could be built in this style. (Read that previous post here: My Dream Home.)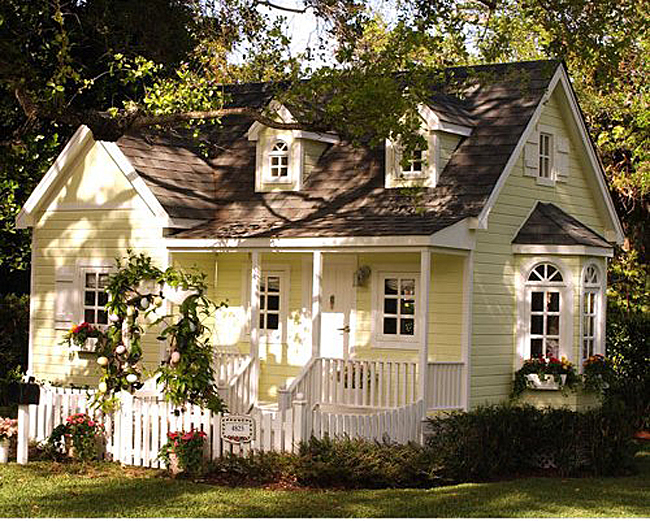 Doesn't this Little Library look like it should be outside the cottage above? ?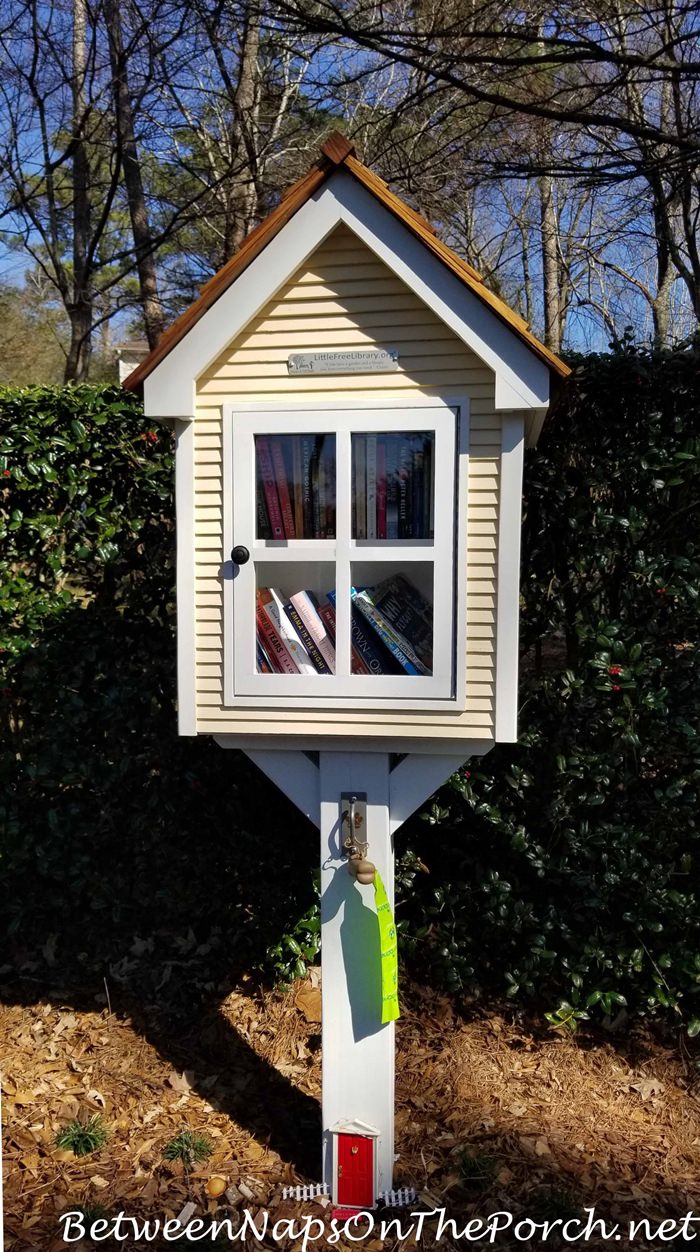 I think I even know the spot where I would want my Little Free Library. I would place it up here by the road, underneath the big Crepe Myrtle in my front yard. Recently I was thinking about moving the bird feeder (seen in the photo below) down closer to the birdhouse in front of my home. It would give me a great spot to place mealworms for the bluebirds that nest in that birdhouse every year.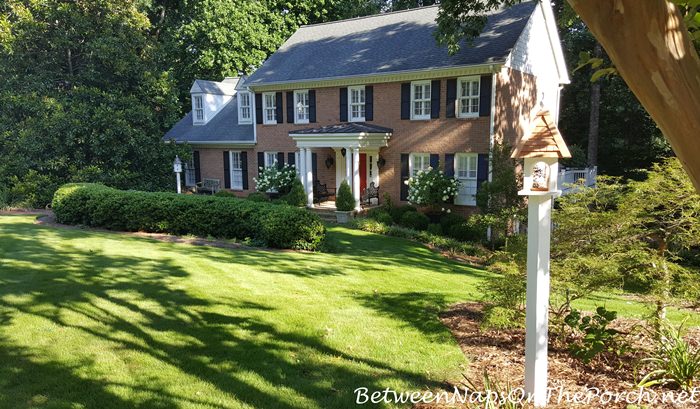 Let's take a closer look at all the wonderful features of the Little Free Library David built for his neighborhood.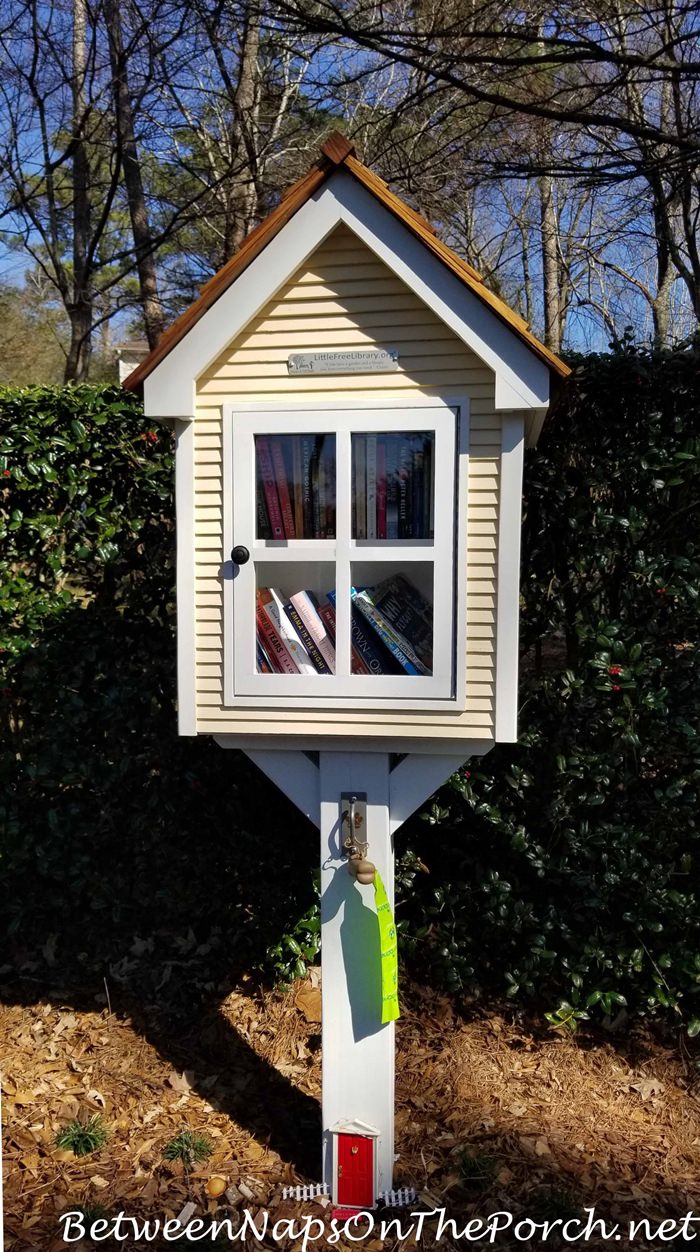 At the base, there's a little handle/hook with what I think is a doggie toy hanging off of it.
On closer inspection, I noticed it says, "doghook" so that must be a spot to hook your leash so you can easily browse through the books without worrying that your dog will run away. Love that!
And look what's at the very base of the library!!! It's my red door!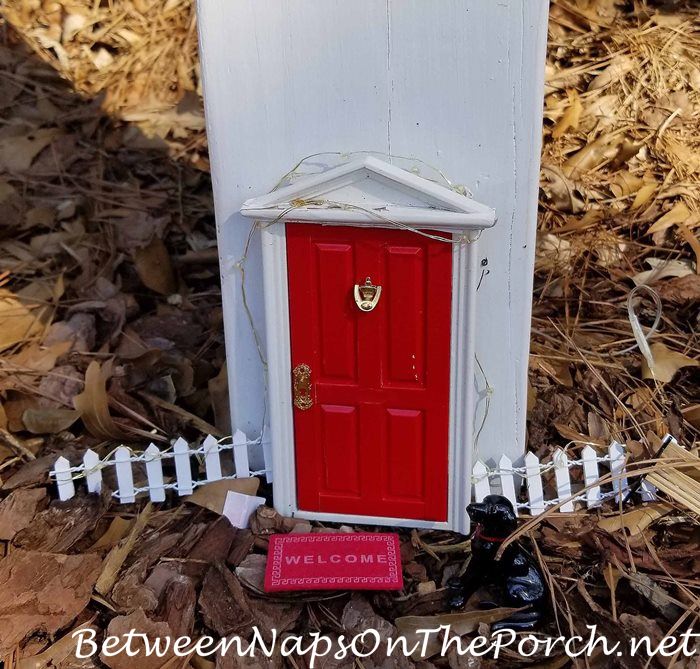 I couldn't believe it when I saw the red door!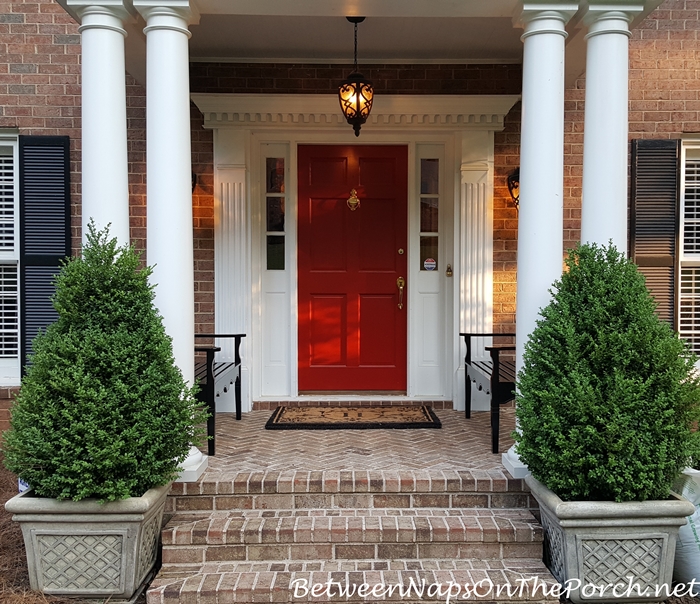 I love the sweet doggie nearby and it appears there are lights around the door. I bet it is adorable lit up at night! Do you think fairies live inside? Or maybe gnomes?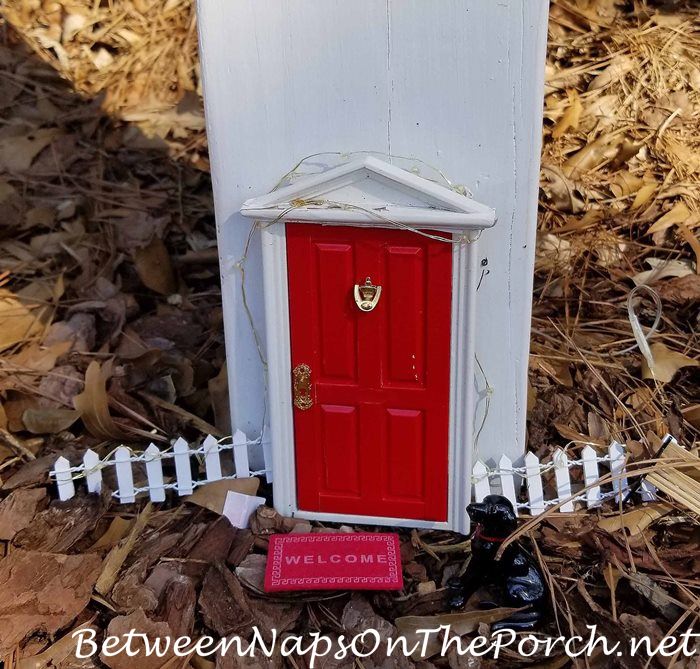 David told me that they registered their little library, you can read more about that process here: Registration Process.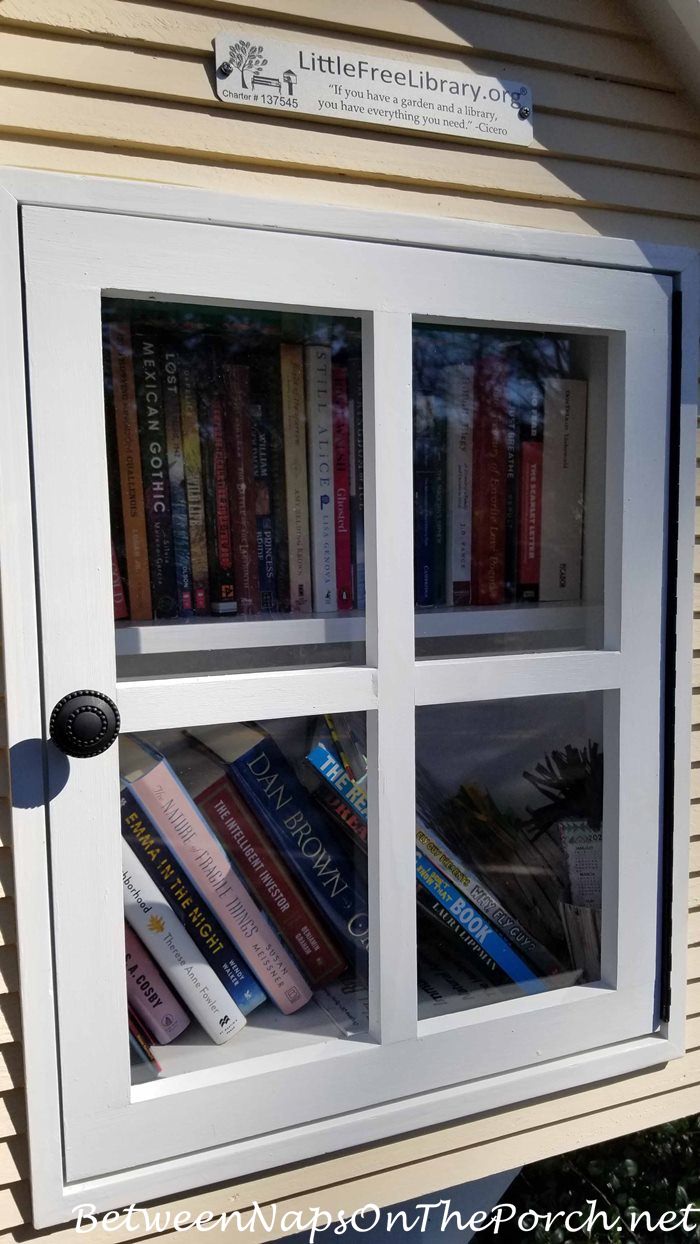 I haven't looked yet but apparently, all the little free libraries that are regiestered can be found on a map at that website. I think they send you this little plaque once you've registered your library. David said after they put their library up, they placed a couple of books inside, and within a day or two, the library was completely full!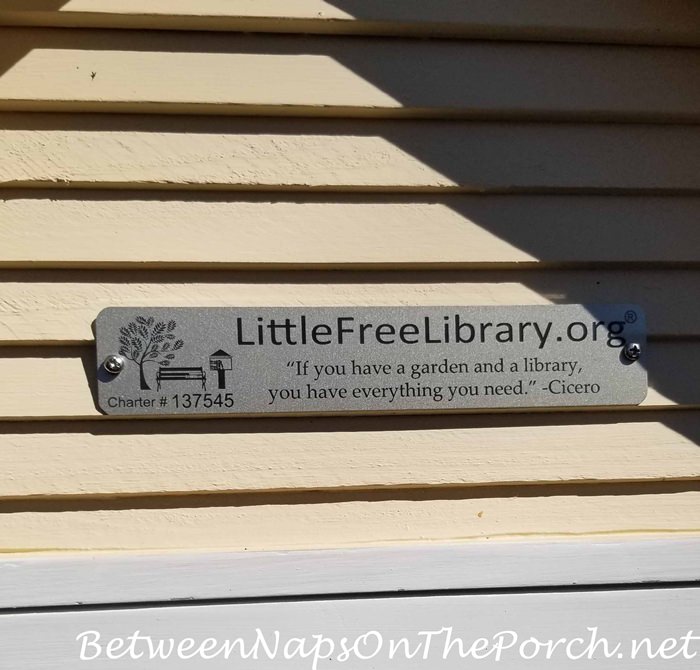 Here's how it looks inside.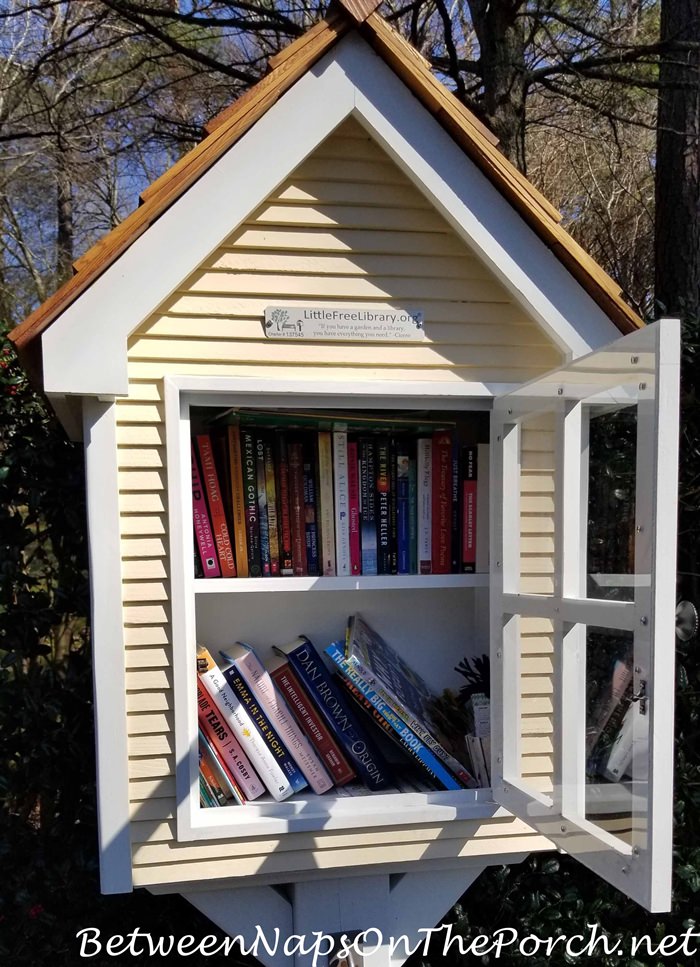 I was curious about what books I would find inside.
See any that you would love to read?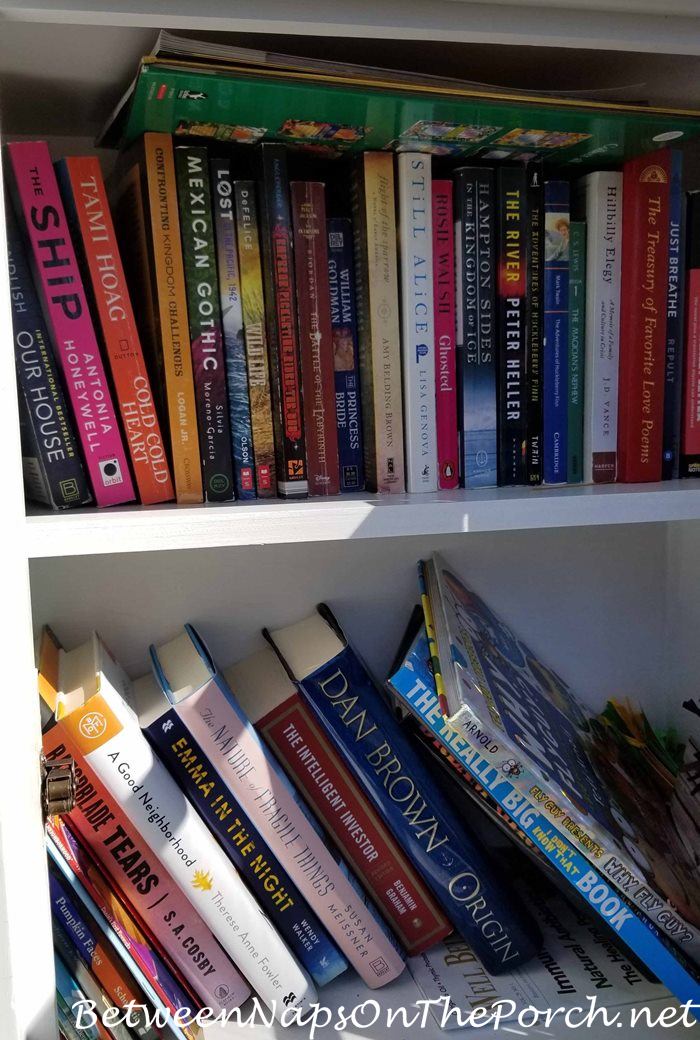 I was initially thinking that I would like for it to have three shelves: a lower one for children's books, a middle one for teens, and a top shelf for books that would appeal to adults. What do think? I guess they would probably get all mixed together after a while.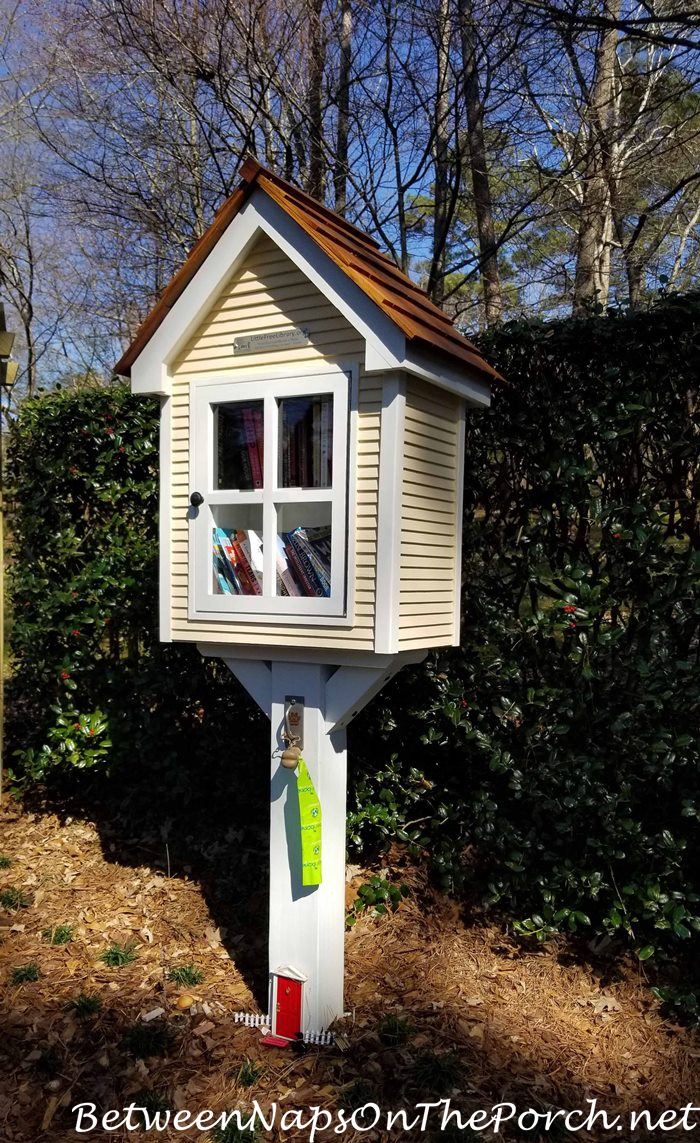 I will keep you posted if I can twist David's arm to get him to build me a Little Free Library. ? I will definitely be contacting him to get some estimates for renovating my baths.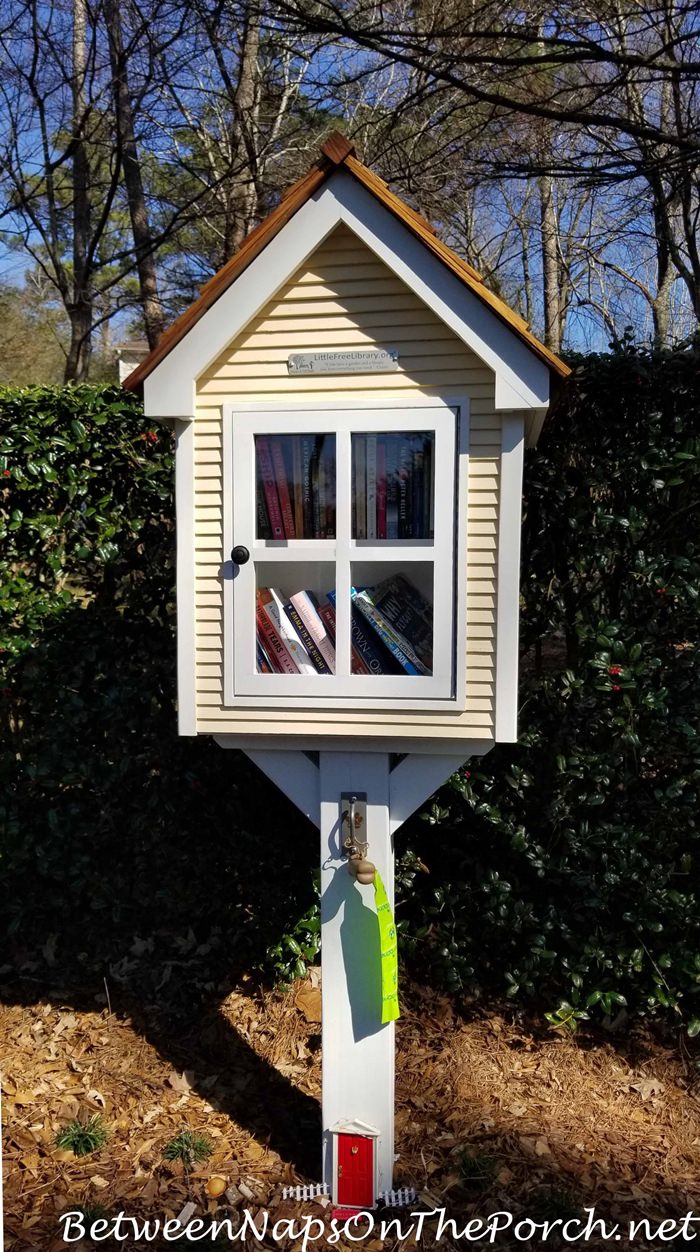 Recently I mentioned the Tulip Magnolias are blooming here? Normally I'm zooming down the road when I see them and there's no place to park to get a photo. I finally captured one for you in the front yard of a home near where I parked to visit the little library. Isn't it glorious?! Spring has arrived here in the south!
*If a post is sponsored or a product was provided at no charge, it will be stated in post. Some links may be affiliate links and as an Amazon Associate, I may earn from qualifying purchases. *
.