If you've been reading BNOTP for a bit, you probably know I'm a completely lamp-obsessed woman. My living room alone contains 7 lamps. Five are visible in this view and there are two more on the bookcases to the left but not visible in the photo. I love lamps almost as much as I love handbags. Almost.
I'm definitely not a fan of overhead lighting. If overhead lighting is dim, it has a tendency to dull down the beauty of a room. If it's really bright, it can feel harsh and clinical. Four to five lamps placed strategically around a room can make the space feel warm and inviting, not to mention it can soften or hide little flaws that our older, well-loved furniture may have. Just as we humans look better in soft lighting, so often do our rooms.
When I'm out antiquing, I'm always on the lookout for quality lamps. I love stopping by David's booth in the Marietta Antique Mall to see what new lamps he has available for purchase. David designs and makes a lot of the lamps he has on display in his space. He really understands scale and has such a great eye for creating beautiful lamps. (By the way, David has no idea I'm sharing his booth and I've never received a discount or any compensation or discounts. So not sponsored, no discounts–just a big fan of his work.)
Bamboo Table with Glass Top & Shelf with Door, $575. Before we step into David's booth, check out this bamboo table that was positioned at the front of the booth. I thought it was so unique, like something you would find in a home in an exotic locale. It just feels very tropical.
It had a "door" on the front that opened up, so things could actually be stored inside and underneath the table. What would you store in there? A throw for chilly nights? Books? Maybe a tea set on a tray for afternoon teatime? There's a lot of room under there so the possibilities are endless.
Here's how the surface looked…such a neat piece! Okay, let's check out all the beautiful lamps!
Sailboat, Lucite, $425. I think the lamps with cards attached saying "One of a Kind" are the ones specifically designed and crafted by David himself. This Sailboat lamp appeared to be one of his lovely creations. It would be perfect in a seaside cottage or lake house or a great gift for anyone who loves sailing.
Murano Glass Birds, Sculpture by Designer Andrea Tagliapietra, $650
I really like the base David chose for this lamp, doesn't detract or pull the focus away from the beautiful Murano glass birds.
I need a beach house so I have an excuse to buy lamps like this!
I forgot to get the price on this one.
Handmade Copper Fish Table lamp with Linen Shade, $500. Another amazing lamp designed by David. Notice the finial on top!
Porcelain Stylized Bird Table Lamp, $145
So elegant and great for an interior in blues and pinks…maybe a pretty bedroom.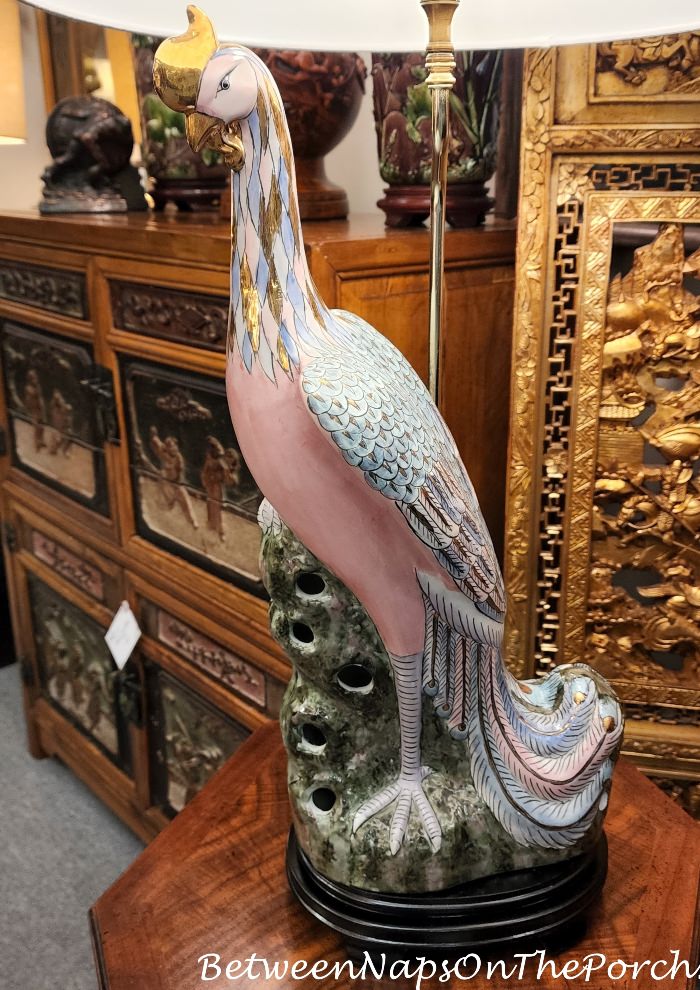 Bronze Geese in Flight on Wood Base with Linen Shade, $475.
My favorite lamps by David are the ones that feature wildlife like this one. Love those so much!
Bronze Moose Table Lamp. $600.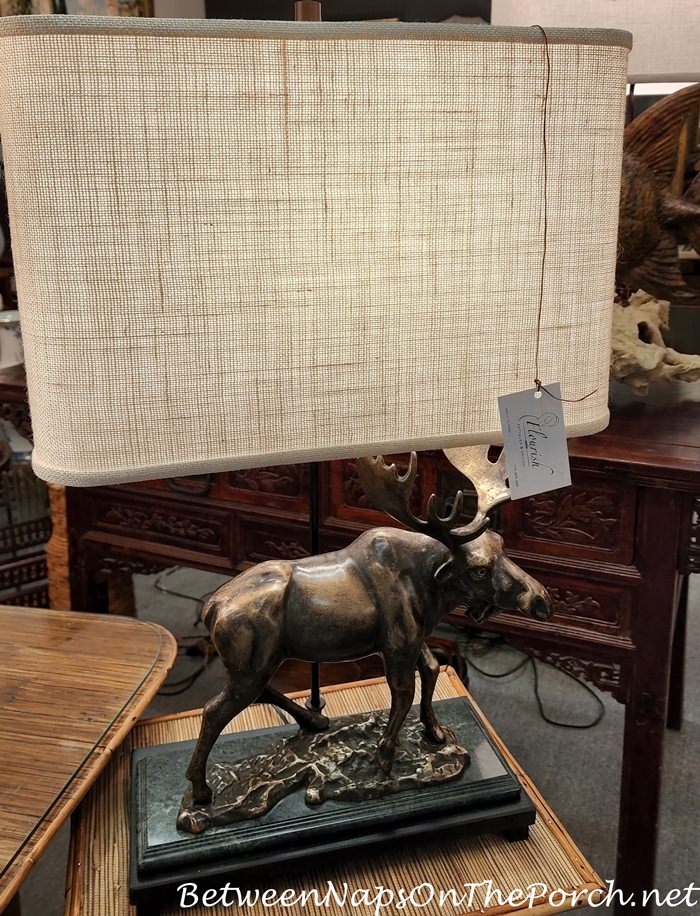 Wouldn't this be wonderful in a mountain cabin–or a cozy living room or study. The base is so pretty…again I love David's aesthetic, he just has the best eye for knowing what works!
This lamp had me thinking of my trip to Egypt. Love the base David chose for it!
Parrot Lamp, $135. We'll end our lamp tour with a summer vibe! This lamp makes me want to plan a tropical vacation someplace. Right now…like right this minute!
Did you have a favorite lamp? I don't think I could choose but I really loved the Geese in Flight, the Moose, and the Parrot lamp!
*If a post is sponsored or a product was provided at no charge, it will be stated in post. Some links may be affiliate links and as an Amazon Associate, I may earn from qualifying purchases. *
.