Selamat datang di Metamorfosis ke-678 Senin!
Ada tambahan baru di sini di kantor saya. Ini mungkin bukan bagian paling estetis yang saya tambahkan ke ruangan ini, tapi saya benar-benar menikmatinya. Baru-baru ini, saya berpikir betapa menyenangkannya jika saya memiliki treadmill kecil di kantor sehingga ketika saya ingin menonton video YouTube atau apa pun secara online, saya juga bisa "jalan-jalan" pada saat yang sama. . Saya tidak ingin menghabiskan banyak uang dan tidak menginginkan sesuatu yang sangat, sangat besar yang akan memakan banyak ruang di ruangan ini.
Awalnya, saya membeli treadmill yang berbeda, yang tidak memiliki lengan/pegangan tangan. Itu terdaftar sebagai "treadmill di bawah meja" tetapi iklan itu juga menyertakan video yang menunjukkannya digunakan di tengah ruangan untuk berjalan dan berlari. Setelah tiba, saya segera menemukan bahwa saya tidak suka berjalan di atas treadmill yang tidak memiliki lengan atau apa pun yang dengannya Anda dapat mengukur di mana Anda berada di treadmill. Saya mendapati diri saya melihat ke bawah setiap beberapa detik karena saya tidak pernah merasa tahu persis di mana saya berada–apakah saya terlalu jauh ke belakang atau terlalu jauh ke depan? Apakah saya akan menginjak bagian depan treadmill atau tergelincir dari belakang?
Karena saya menginginkan treadmill untuk tujuan agar dapat berjalan sambil menonton video di komputer saya, harus terus-menerus melihat ke bawah untuk melihat seberapa dekat saya dengan tepi depan atau belakang tidak akan berhasil. Saya mengembalikan treadmill itu setelah mencobanya beberapa kali. Setelah pengalaman saya, saya tidak akan pernah merekomendasikan membeli treadmill yang tidak memiliki lengan atau apa pun untuk disentuh/dipegang kecuali Anda benar-benar menggunakannya di depan meja.
Ini adalah treadmill yang saya beli berikutnya dan ini jauh lebih baik! Tidak memakan lebih banyak ruang lantai daripada yang pertama saya coba dan harganya hampir sama. Sebenarnya, itu sedang dijual sekarang, jadi lebih baik.
Perbedaan besar antara itu dan treadmill sebelumnya adalah ia memiliki ruang meja built-in yang dengan mudah menampung laptop, iPad, atau telepon. Saya dapat dengan ringan meletakkan tangan saya di pegangan dan merasa benar-benar nyaman menonton video di monitor komputer besar di meja saya tanpa harus melihat ke bawah untuk melihat di mana saya berada, atau seberapa dekat saya dengan depan atau belakang.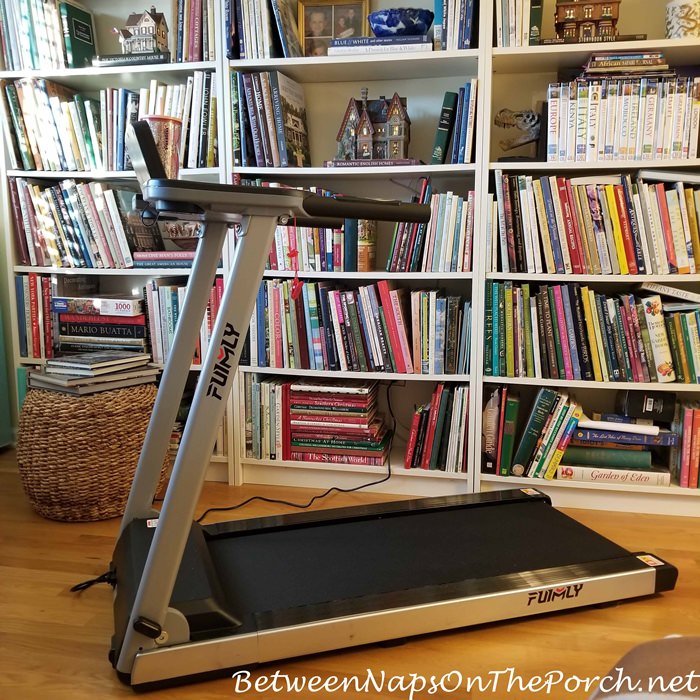 Aku bisa mendorongnya lebih dekat ke rak buku di ruangan ini, tapi itu sempurna di tempat ini dan tidak mengindahkan jalanku ke mejaku.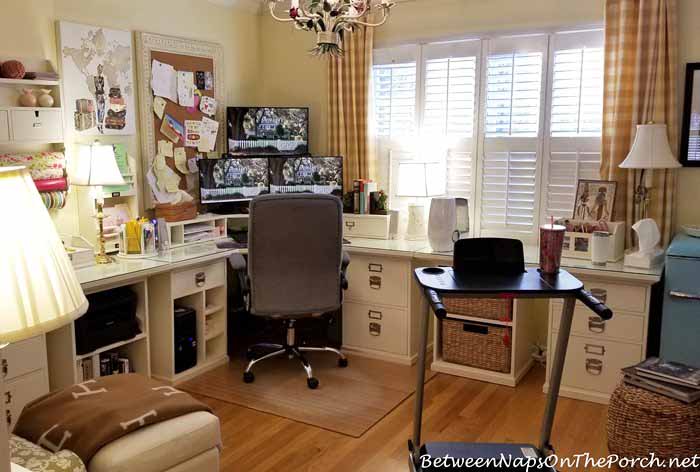 Saya suka cara kerjanya melacak berapa lama saya telah berjalan, jumlah langkah yang saya ambil, jarak yang saya tempuh, dan kalori yang saya bakar. Semua yang ditampilkan di monitor yang Anda lihat mencuat. Saya tidak berpikir untuk menyalakannya ketika saya mengambil foto saya, tetapi Anda dapat melihat tampilannya di sini: Tampilan di Treadmill. Itu juga sangat sunyi sehingga saya dapat dengan mudah mendengar apa pun yang saya tonton sambil berjalan.
Perbedaan besar lainnya dengan treadmill ini dari yang sebelumnya adalah ketika saya selesai dan saya mematikannya, itu melambat secara bertahap. Treadmill lainnya berhenti tiba-tiba dan hampir membuat Anda terjatuh dengan berhenti mendadak itu. Tidak suka itu sama sekali! Yang ini luar biasa…secara bertahap dimulai dengan hitungan mundur sehingga Anda siap saat dimulai dan secara bertahap melambat saat selesai. Sejauh ini, ini sempurna—persis seperti yang saya harapkan di treadmill. Anda dapat melihat lebih banyak foto dan membaca lebih lanjut di sini: Treadmill dengan Meja.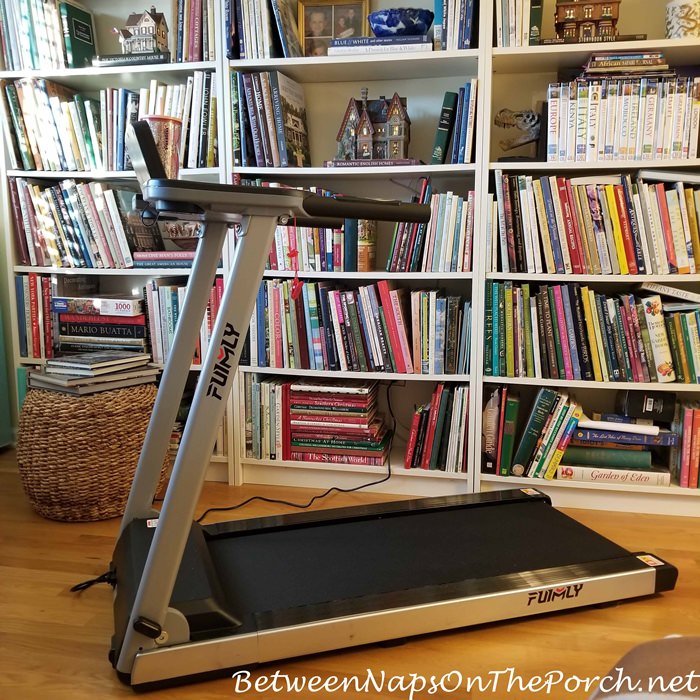 Senin bahagia! Saya harap minggu Anda dimulai dengan baik!
Menantikan semua Sebelum dan Sesudah yang indah yang ditautkan untuk Met Monday minggu ini!
ssst: Tahukah Anda Antara Naps On The Porch ada di Instagram? Anda akan menemukan saya di Instagram di sini: Between Naps On The Porch.
Ingin tahu kapan posting blog baru siap dan tersedia untuk dibaca? Berlangganan untuk pembaruan email, gratis dan email Anda tidak akan pernah dibagikan.
Berlangganan untuk pembaruan pos gratis melalui email di sini: Berlangganan.
Metamorfosis Senin
Metamorphosis Monday adalah pesta yang mengutamakan Before and Afters. Harap hubungkan proyek Sebelum dan Setelah Anda seperti proyek DIY, perombakan ruangan, proyek kerajinan, bahkan resep. Setiap Sebelum dan Setelah itu bagus! Tolong jangan menautkan Pengaturan Tabel, simpan itu untuk pesta Kamis Tablescape kami pada hari Kamis.
Jika Anda berpartisipasi dalam Met Monday, harap tautkan menggunakan "tautan permanen" ke posting MM Anda dan bukan alamat blog umum Anda. Untuk mendapatkan permalink Anda, klik nama posting Anda, lalu salin dan tempel alamat yang muncul di bilah alamat di bagian atas blog Anda, ke dalam kotak "url" untuk InLinkz saat diminta.
Untuk menautkan, Anda harus menyertakan tautan di pos MM Anda kembali ke pesta sehingga peserta lain akan memiliki kesempatan untuk menerima kunjungan dari pembaca blog Anda yang luar biasa.
*Jika kiriman disponsori atau produk diberikan tanpa biaya, maka akan dinyatakan dalam kiriman. Beberapa tautan mungkin merupakan tautan afiliasi dan sebagai Amazon Associate, saya dapat memperoleh penghasilan dari pembelian yang memenuhi syarat. *
.