A while back, was it last summer–can't remember, I shared some outfits I love to wear come summertime. With this outfit below, I shared a favorite pink wicker bag that unfortunately has canvas handles. I don't know why they chose to put canvas handles on a bag because they are inevitably going to get dirty.
In an attempt to avoid the handles getting dirty, I purchased these handle-covers on Etsy. They worked well except I've always wished they were a bit longer since they don't fully cover the area my hand/fingers touch when carrying the bag.
I've attempted in the past to use a Hermes Twilly silk scarf on the handles because that's a popular solution among handbag enthusiasts for protecting the handles of a handbag from lotion, skin oils, sweat, etc… The last time I tried a Twilly on the handles, it would not stay on properly.
I can be so dense sometimes–can't see the forest for the trees! I had been trying to make it cover the entire handle, which really isn't necessary. I finally grew a brain and realized it didn't need to cover the lower portion of the handle where it widens out and attaches to the bag. That had been the issue before with getting it to fit properly, it wouldn't stay down over the lower part of the handle where it widens out. Ironically, when I realized that Twillys would work, after all, I didn't need to buy any since I already had two that were a great match for the bag.
Last summer (or was it the summer before–I'm terrible with time!) my friend, Teresa, purchased this beautiful Louis Vuitton Croisette bag. I really love this bag in the pretty Damier Azur print! She took care to protect the untreated Vachetta leather on the handle and the strap. (Read more about how she did that in this previous post: How Teresa Protected the Vachetta Leather on Her LV Croisette Bag.)
Last summer Teresa added a pretty Twilly for decoration and extra protection. The Twilly below is the Bingata Twilly from Hermes. It comes in several colors but this pink is my favorite. Love it!
I loved how this twilly looked on Teresa's bag so much, I ended up buying a couple for a bag that I have with leather handles. (See the many other ways Twillys can be worn here: Hermes Twilly.)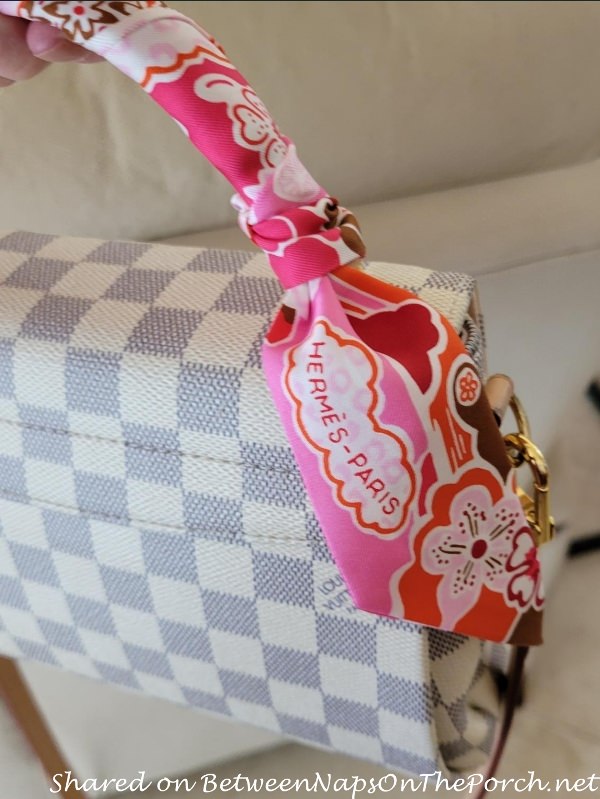 Storage Ideas
I've always stored my silk twilly scarves in a small craft storage type container. Yesterday, I was trying to think of a better way to store them, a way where they could hang instead of having to be rolled up. I think I've come up with a better system, I'll know tomorrow after something I've ordered arrives.
In the meantime, several of my silk Twilly scarves are quite wrinkled from having been tied on bags as a decoration or from being wound around the handles of bags.
I decided to de-wrinkle them before their new storage device arrives tomorrow. I didn't want to risk ironing them, scares me to think of ironing silk, so I decided to steam the wrinkles out.
This is the steamer I have–purchased it a few years back. I have a hand-held steamer but I prefer this one since there's a place to hang whatever I'm steaming–which is more convenient and just feels safer.
I'm always amazed when I steam anything because the wrinkles literally fall out in a matter of seconds. Each twilly I steamed only took about 5 seconds to steam and they turned out beautifully!
Here's how this one looked prior to steaming.
And here's how it looked a few seconds later.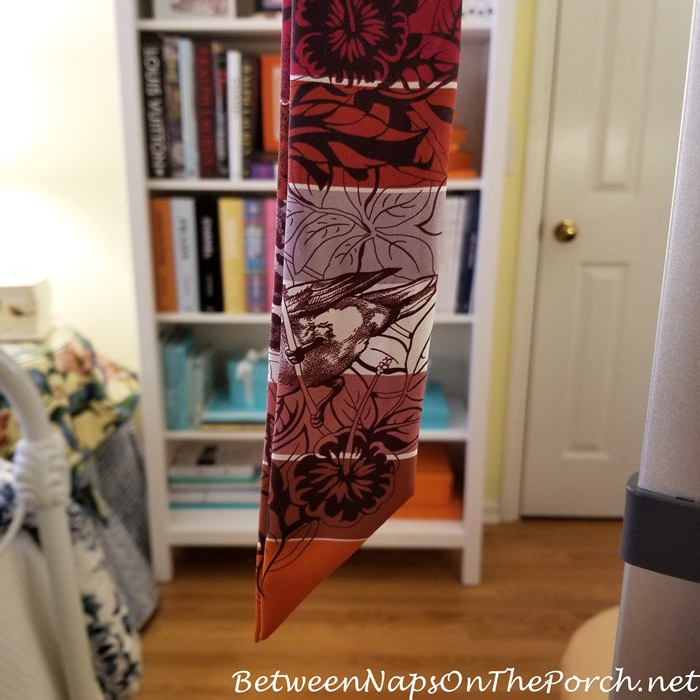 If you need a good steamer, this is the one I use here: Professional Style Steamer.
New Sperry Boat Shoes
The other thing I wanted to share is the Sperry Boat Shoes I just purchased a few days ago. I love boat shoes and have quite a few pairs, but I noticed this fall/winter that the ones I wear during the wintertime are a bit tight when wearing them with my favorite merino wool socks.
So I went searching for new boat shoes in colors that would work for winter and found these for only $49.95. That's a steal for Sperry boat shoes! I purchased them a half size up for wearing with thick socks. I know the temps are warming up now but wanted to share these in case you wanted to catch a deal for next fall/winter–or in case you live in Australia where you're just going into winter. I purchased these here: Sperry Boat Shoes.
This was the other style I purchased–they should arrive next week. I bought them 1/2 size up too, so I can wear them with heavier winter socks. They are available for a great price here: Sperry Boat Shoes. They come in several styles at that link, some of which would be cute for summer.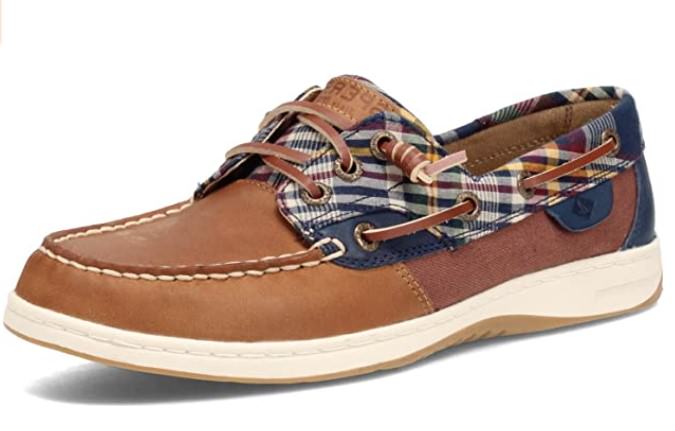 Note: If you've never worn Sperry Topsiders/Boat Shoes, one thing to know is since they are typically made of leather (or sometimes leather and canvas) they usually feel a bit snug when you first get them. But once you start wearing them, they loosen up as the leather stretches.
If you order a pair and they feel snug when you first try them on, wear them around on the carpet a bit to stretch them out. When I first got this pair below, they felt a little stiff and a bit snug, but after just wearing them out on a few quick errands yesterday, they feel perfect now.
Happy Weekend! Hope you're seeing pretty weather and if you live in a snowy climate, hope it's starting to melt!
*If a post is sponsored or a product was provided at no charge, it will be stated in post. Some links may be affiliate links and as an Amazon Associate, I may earn from qualifying purchases. *
.