Imagine that you regularly visit a gym for a full workout, but for some reason, you don't go for 3 months. After a 3-month break, you go back, but instead of starting back slowly, you dive full-in doing your old routine as if you've never missed a day. That's how I feel today, every muscle in my body feels like it's had a full workout to the max! I don't think there's a single muscle that's not feeling the effects of moving all the cabinets back out to the garage.
Thankfully, I had someone help me, but honestly, I think I could have done it alone once I discovered how much lighter the cabinets are with the doors removed. The doors are definitely the heaviest part of these storage cabinets. So if you ever have to move one, keep that in mind and remove those doors first! Then you could lay the unit down on its side on a blanket (or leave it standing up) and drag it where you want it. That's the way I normally move big pieces.
So here's how the breakfast room looks right now, still not fully back to normal, but much better. The table and chairs are still full of glasses and they will have to stay that way for a bit since the cabinet they will be going back in, will be against a wall that's awaiting final touch-ups from the painting company. I really want to get those reshelved but I also want the touch-up work done. Hopefully, it won't be too much longer. In the meantime, I have plenty to keep me busy!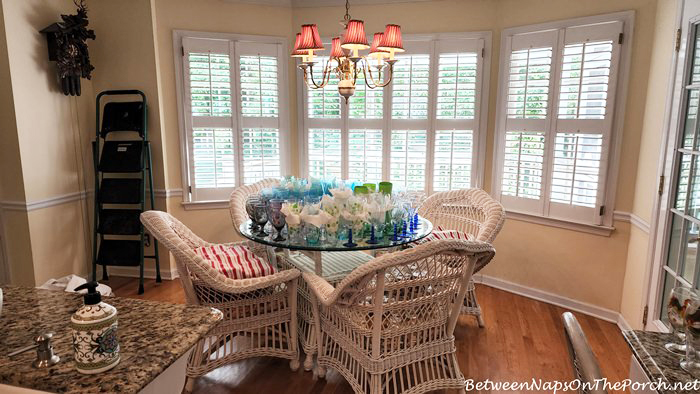 This is how far along the cabinets are at present. I squared them up and leveled them the best I could last night. It's like moving around 80 lb puzzle pieces! Actually, I have no idea how much they weigh minus the doors, but to these tired arms, they felt pretty dang heavy!
I couldn't wait to implement one of the changes I have planned…separating out the flatware and napkin rings into two separate cabinets. I was able to really spread out all the napkin rings instead of having 3-4 sets all crammed into one storage container. I'll share more about all that in a future post in case it's helpful. Many of the storage boxes are almost empty, so there's plenty of room for future napkin rings or flatware in the years to come.
Day 1 of my Granite Garage Floor Installation
Today, I thought I'd share Day 1 of the garage flooring installation. I had planned to share the entire process all in one post, but there are a lot of steps so thought it would be easier to see/read about it over two separate posts, just as it happened in real life over two different days. Granite Garage outlines its process in detail at their website, so if you have additional questions, you can get the nitty-gritty specifics there.
To start, the GG guys used diamond floor grinders to prepare the surface of the garage floor to "ensure maximum adhesion" of their coating system. Preparing the flooring is a super important step in this process. The machines have industrial filters so there's little to no dust during this process. I didn't notice any at all. This step also helps remove oil stains or any other stains that could affect the installation and helps the products they use to create a strong bond with the flooring.
Next, they give the floor a good vacuum to make sure it's ready for the next step.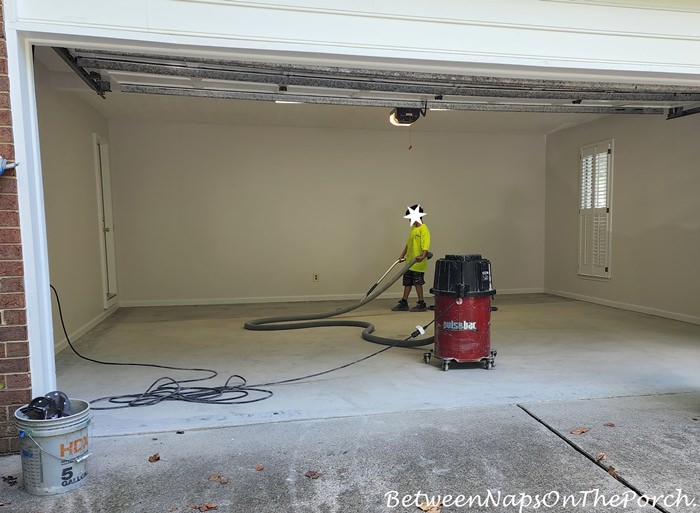 During the next step, any little "cracks, fissures or spalling concrete" is dealt with and repaired.
Here's an excerpt from their website explaining that process.
I was inside and missed the next step, but here's a photo from Granite Garage's website showing how they apply the primer and base coat as the next step in the application process. The products they use are low VOC and LEED compliant and are created specifically for Granite Garage Floors. They mix up the material on-site based on the square footage they will be covering.
Next came my favorite part, the spreading of the colorful flakes. I came back outside just as they were finishing this step. They wear these funny-looking shoes that are kinda like cleats and throw out the flakes to the point of "rejection" which means there won't be any part of the floor that doesn't get completely covered.
I had several people ask where they stop the flooring at the edge of the garage. The concrete part of the garage actually extends out 3-4 inches beyond where the garage door closes down. I guess it's that way with all garages. Granite Garage covers that entire area and the flooring stops where there is a natural break in the concrete and where the garage attaches to the driveway. So when my garage door goes down, it actually lands a few inches back from the blue tape seen in the photo below. I love how the pretty flooring looks peeking out a few inches on the outside of the garage.
Here's how the Granite Garage guys left things at the end of Day 1. The garage door was left a couple of inches up so it wouldn't damage the newly installed flooring. They covered up the section of the garage floor that extends out beyond the garage door so it would be protected in case it rained–and it did. We've been getting almost every day here. The grass, trees, and flowers are loving it!
I'll share Day 2 and the final process in an upcoming post–hopefully, tomorrow. I'm going to now take my achy, sore self to Home Depot to buy more of the thicker shelving for the two new cabinets I'm adding to the garage. Or, maybe I'll just rest for a bit. Even walking sounds exhausting right now. lol
*If a post is sponsored or a product was provided at no charge, it will be stated in post. Some links may be affiliate links and as an Amazon Associate, I may earn from qualifying purchases. *
.