Selamat datang di hari Senin Metamorfosis ke-673!
Teman saya, Teresa, dan saya memiliki beberapa petualangan yang menyenangkan selama beberapa tahun terakhir, termasuk perjalanan ke Mesir yang menurut saya tidak akan segera dilupakan oleh salah satu dari kami.
Sayangnya, kami tinggal di banyak negara bagian yang terpisah, tetapi baru-baru ini kami dapat menghabiskan seminggu bersama di rumahnya yang indah.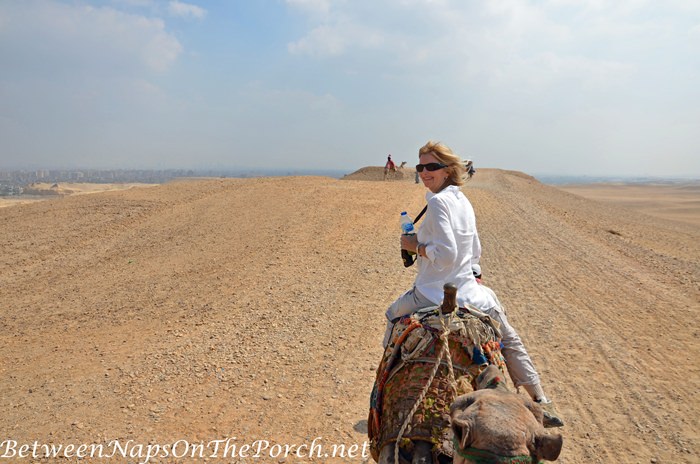 Teresa dan suaminya, Frank, menyalakan lampu rumah mereka dengan indah untuk Natal tahun ini. Itu terlihat spektakuler!
Apakah ini tidak menakjubkan?! Perhatikan karangan bunga yang menyala di atas pintu masuk—sangat indah!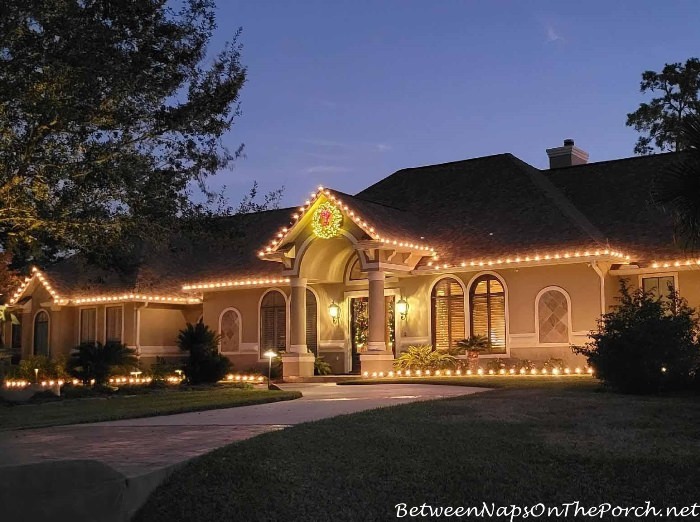 Pintu depan ganda dihiasi dengan tiga karangan bunga!
Beberapa tahun yang lalu saya melakukan tampilan yang sama untuk pintu depan saya. Anda akan menemukan posting itu dengan detail tentang bagaimana saya menggantung ketiga karangan bunga di sini: Hiasi dengan Triple Wreaths.
Beberapa hari yang lalu saya membagikan pohon Natal Teresa yang indah di sini, di kantor rumahnya.
Berikut adalah tampilan bagaimana itu tampak menyala di malam hari…sangat cantik! Jika Anda bekerja dari rumah, saya sangat menyukai gagasan memiliki Natal yang dapat Anda nikmati sepanjang hari sambil bekerja.
Anda mungkin ingat ketika saya membagikan dinding "seni album" yang luar biasa ini di kamar tamu tempat saya menginap selama kunjungan saya. (Jika Anda melewatkan posting itu, Anda akan menemukannya di sini: Mengubah Album Rekaman Lama Menjadi Seni Dinding yang Unik dan Menyenangkan.)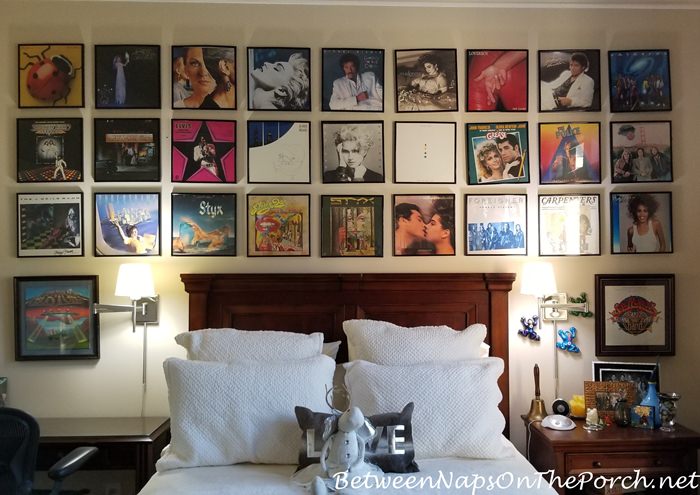 Satu hal yang tidak saya bagikan di posting sebelumnya adalah pemandangan halaman belakang dan kolam renang yang indah yang saya dapatkan dari kamar saya. Rumah Teresa seperti tinggal di resor yang indah!
Ini adalah pemandangan di siang hari yang terlihat dari ruang sarapan hingga halaman belakang! Saya bisa menderita untuk melihat pemandangan ini setiap hari! Bagaimana denganmu?
Di malam hari, pemandangannya bahkan lebih indah!
Halaman belakang terasa benar-benar ajaib dengan semua pencahayaan Natal yang indah. Saya akan tergoda untuk tetap seperti ini sepanjang tahun! Bertanya-tanya apa yang akan dikatakan tetangga ?! Ha!
Lihatlah pemandangan kolam renang ini di malam hari! Ya ampun, itu menakjubkan! Sayangnya, saya mengambil foto ini tepat setelah bak mandi air panas dinyalakan sehingga ombak menghapus pemandangan karangan bunga di air, tetapi Anda akan mendapatkan pemandangan lain hanya dalam satu menit.
Area tempat duduk luar ruangan ini sangat cantik. Saya suka cara itu didekorasi untuk Natal!
Pemandangan pencahayaan yang indah di dalam…
Pencahayaan di dalam ruangan outdoor ini sangat halus, cocok untuk bersantai dan menikmati malam hari.
Ini adalah gambar yang Teresa bagikan dengan saya dan saya suka bagaimana Anda bisa melihat karangan bunga terpantul di kolam. Sangat cantik! Terima kasih banyak kepada Teresa karena mengizinkan saya berbagi rumahnya yang indah yang semuanya didekorasi untuk Natal! Gambar tidak benar-benar menunjukkan betapa indahnya itu secara langsung! Saya suka bagaimana pencahayaan membuat segalanya lebih mempesona dan ajaib. Apakah Anda melakukan pencahayaan eksterior tahun ini di sekitar rumah Anda?
Menantikan semua Sebelum dan Sesudah yang hebat yang ditautkan untuk Metamorfosis Senin minggu ini!
ssst: Tahukah Anda Antara Naps On The Porch ada di Instagram? Anda akan menemukan saya di Instagram di sini: Between Naps On The Porch.
Ingin tahu kapan posting blog baru siap dan tersedia untuk dibaca? Berlangganan untuk pembaruan email, gratis dan email Anda tidak akan pernah dibagikan.
Berlangganan untuk pembaruan pos gratis melalui email di sini: Berlangganan.
Metamorfosis Senin
Metamorphosis Monday adalah pesta yang mengutamakan Before and Afters. Harap hubungkan proyek Sebelum dan Setelah Anda seperti proyek DIY, perombakan ruangan, proyek kerajinan, bahkan resep. Setiap Sebelum dan Setelah itu bagus! Tolong jangan menautkan Pengaturan Tabel, simpan itu untuk pesta Kamis Tablescape kami pada hari Kamis.
Jika Anda berpartisipasi dalam Met Monday, harap tautkan menggunakan "tautan permanen" ke posting MM Anda dan bukan alamat blog umum Anda. Untuk mendapatkan permalink Anda, klik nama posting Anda, lalu salin dan tempel alamat yang muncul di bilah alamat di bagian atas blog Anda, ke dalam kotak "url" untuk InLinkz saat diminta.
Untuk menautkan, Anda harus menyertakan tautan di pos MM Anda kembali ke pesta sehingga peserta lain akan memiliki kesempatan untuk menerima kunjungan dari pembaca blog Anda yang luar biasa.
*Jika kiriman disponsori atau produk diberikan tanpa biaya, maka akan dinyatakan dalam kiriman. Beberapa tautan mungkin merupakan tautan afiliasi dan sebagai Amazon Associate, saya dapat memperoleh penghasilan dari pembelian yang memenuhi syarat. *
.