Welcome to the 712th Metamorphosis Monday!
How was your weekend? I hope it was restful and fun! For this week's Met Monday, I have a small transformation that makes me smile from ear to ear each time I see it–which just so happens to be multiple times per day. It's a small addition here in the kitchen. I enjoyed it so much after I added it, I ended up purchasing one for my office, too. What has me grinning ear to ear? First, a little backstory: In the past, I've had a small weather station on the desk seen on the left here in the kitchen.
The sensor for this weather station is out on the screened porch. I've really enjoyed having it here since I can see at a glance what the weather is like before I ever open the door, but it has one super annoying habit. Periodically, it will start flashing for no apparent reason. Per the instructions, that's supposed to indicate some kind of interference between the remote sensor and the station. Changing the channel inside the station doesn't help, nor does moving the sensor or changing the batteries in the sensor. Eventually, the flashing always stops, but it's super annoying while it's going on. After having this issue for many years, I recently decided to replace it with a new, updated weather station. I'm sure the technology of weather stations has improved since I purchased this one so many years ago.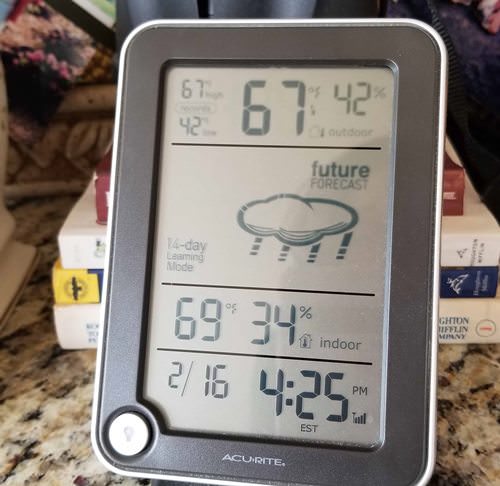 I moved the old weather station (along with its sensor) to the tool chest here in the garage, and it's working flawlessly here. This photo was taken before I moved it here. I finally got around to hanging the big star back on the wall where it used to always be.
The old weather station seems very happy in its new home–no more flashing! I like being able to check the temperature/humidity in the garage whenever I'm out here. So with what did I replace this older weather station?
Technology has changed and I'm in love with this colorful Weather Station! It has been working beautifully with zero flashing! I have its sensor out on the porch where I used to have the sensor for the black and white weather station. When I first come down in the morning or I'm working here in the kitchen, I love seeing the temperature out on the porch, and I'm absolutely crazy about this colorful display. You can tell that I had the door open to the porch this day by the humidity level, plus it was about to start raining as indicated on the weather station.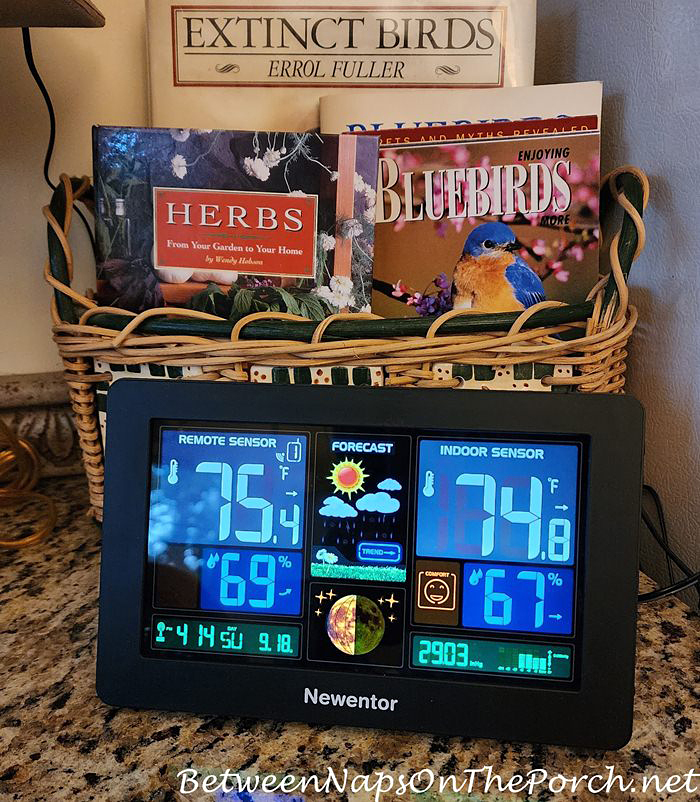 I loved this sensor so much after it arrived, I ordered a second one right away for my office upstairs. As many as 3 weather stations can be connected to a single sensor, so once I plugged it in, it automatically detected the sensor that was already down on the porch. I'm tempted to add a 3rd one to my dressing area upstairs so I'll have the weather at a glance when I'm getting dressed in the morning.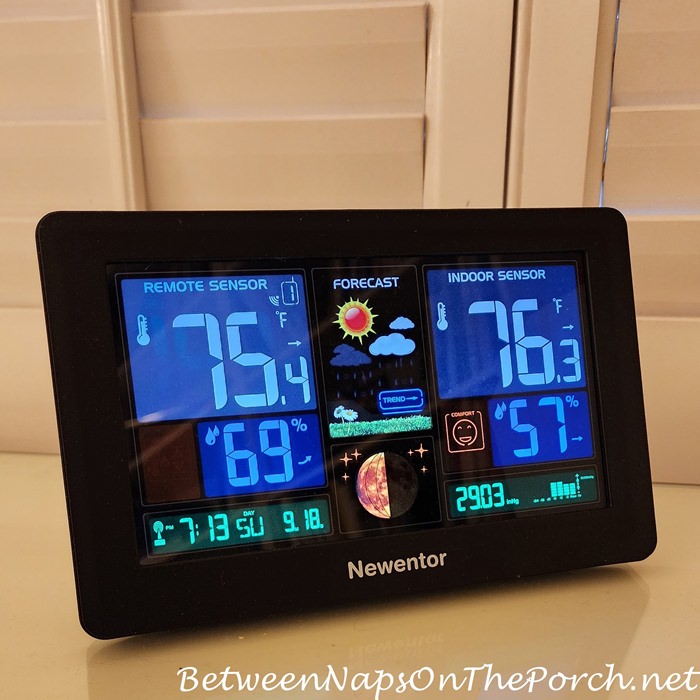 I love, love, love how it shows the various phases of the moon! Next to knowing the temperature at a glance, that's my favorite thing about this weather station! It was sooo pretty a few days ago when we had a full moon. If you could use a colorful weather station in your home, you'll find this one available here: Weather Station.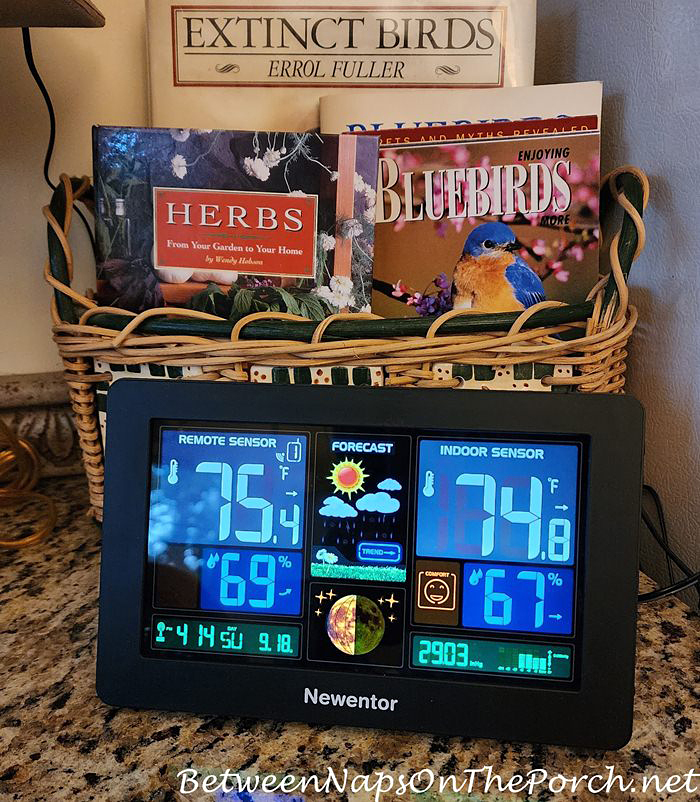 Looking forward to all the wonderful Before and Afters linked for this week's Met Monday!
Pssst: Did you know Between Naps On The Porch is on Instagram? You'll find me on Instagram here: Between Naps On The Porch.
Like to know when a new blog post is up and available to read? Subscribe for email updates, it's free and your email will never be shared. Subscribe for free post updates via email here: Subscribe.
Metamorphosis Monday
Metamorphosis Monday is a party that's all about Before and Afters. Please link up your Before and After projects like DIY projects, room makeovers, craft projects even recipes. Please do not link up Table Settings, save those for our Tablescape Thursday party on Thursday. If you are participating in Met Monday, you'll need to link your post to the party using the "permalink" to your MM post and not your general blog address. To get your permalink, click on the name of your post, then copy and paste the address that shows in the address bar at the top of your blog, into the "url" box for InLinkz when prompted. NOTE: Please do not link up more than 3 posts from your blog. In order to link up, you'll need to include a link in your post back to the party so visitors to your blog can find the other party participants.  When linking up to the party, give the InLinkz system time to find the link in your post to avoid having your link held for moderation/approval. Thanks!
*If a post is sponsored or a product was provided at no charge, it will be stated in post. Some links may be affiliate links and as an Amazon Associate, I may earn from qualifying purchases. *
.