Wow, Yesterday was a day and a half around here! I had a mini disaster occur. I was trying to do too many things at once (a bad habit of mine) and while calling a local tire place to schedule having my tires rotated, I managed to spill a lot of water onto my keyboard. While trying to wipe off (and shake out) the water from the keyboard, I didn't notice a small amount had also splashed up onto one of my monitors. Argggh.
The keyboard ended up pretty much fried. It was typing gobbledygook the rest of the day–adding extra characters at random points and other weird stuff. I didn't notice the few drops on the bottom of the monitor until a vertical, blue line appeared on the screen. First, the line was a pretty blue color, then it changed to a jagged red.
So I spent most of yesterday (after the tire rotation) swapping out the keyboard for an older version of the exact say keyboard. When I purchased the one I ruined yesterday, fortunately, I had the presence of mind to keep the old one. It took a while to get it updated so the hotkeys worked correctly, but an update from the Logitech website fixed that. I love the programmable hotkeys, it's one of my favorite things about this, sadly, now discontinued keyboard.
This older keyboard actually works better than the newer version that I fried yesterday. I had previously used this keyboard for so long that the plastic space bar is worn down in the center. I can literally feel a thumb-wide depression when I run my finger across it. This keyboard, we have history. We go way back! lol
It reminds me of the worn-down steps in the beautiful wood staircase I used to climb on a daily basis to the third floor of the historic 1874 Admin Building where I took so many classes during my four years at Mercer. I used to wonder about all those who had climbed that stair case over the past 100 years before I was a student there.
After the keyboard battle was won, I connected a new monitor to replace the water-damaged one. I love these monitors that I use on a daily basis so much, a few years back I purchased a spare one to keep on hand in case one of the monitors died one day. I was thankful to have it yesterday! I probably should order another one now–for the next time I do something dumb. lol I hope your Friday was a lot less stressful!
While I was fretting over keyboards and monitors yesterday, I was also trying to choose a wall color for the garage walls. I realized a few days ago that with the new bright-white lighting, white trim, and a wall (or maybe two) filled with white cabinets, the garage was going to feel way too stark if I painted the walls white, as well.
I think I've settled on a Sherwin William Color called Neutral Ground. I often use Benjamin Moore paints in my home but since the outside of the garage door is being painted during this mini-renovation with my exterior house paint which is Sherwin Williams Duration, I thought I'd just go ahead and use a SW paint for the interior so the painters won't have to go to two different stores for paint, although they are located only a block apart.
I want a light neutral color that wouldn't pull too green or too gray or too anything, but would feel somewhat elegant and would contrast nicely with the white trim and white cabinets without being too dark. Hopefully, I've made a good choice. After I chose it, the guys at SW paint store said it was one of their most popular colors and that they get orders for it almost every day. I took that to be a good sign.
If it turns out to be a good choice, I am tempted to use it in my Master Bedroom and upstairs hall. It looks pretty good with my green drapes in the master bedroom.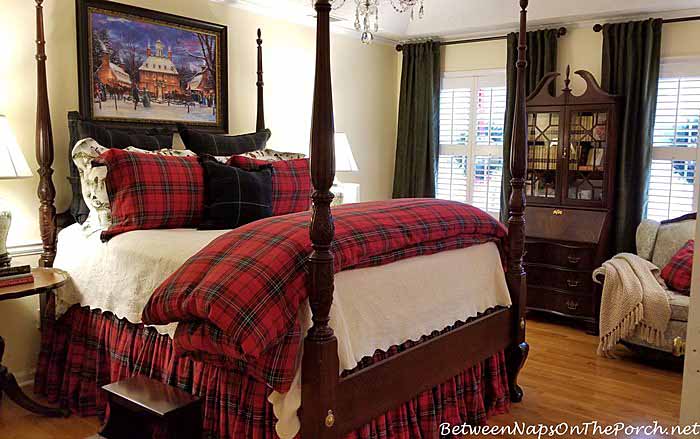 Not the greatest lighting but you can get an idea in this photo.
Here's how it looks with my summer bedding, although not sure these photos are really showing how it truly looks.  I really dislike choosing paint colors…gives me major anxiety!
The painting will start on Wednesday and should be a two-day process. Looking forward to sharing an update on the garage after that!
Happy Weekend!
*If a post is sponsored or a product was provided at no charge, it will be stated in post. Some links may be affiliate links and as an Amazon Associate, I may earn from qualifying purchases. *
.