Beberapa minggu sebelum Natal, saya keluar menjalankan tugas dan tidak bisa menahan diri untuk berhenti oleh Ratu Hati. Jendela mereka didekorasi dengan begitu meriah untuk musim dingin. Saya suka ketika toko melakukan itu!
Imut-imut sekali! Mari masuk ke dalam dan melihat apa yang baru–atau mungkin saya harus mengatakan, apa yang lama! tertawa terbahak-bahak
Saya sangat menyukai lampu ini, hanya tidak peduli dengan naungan. Saya lebih suka lampu saya memiliki warna putih atau krem ​​karena Anda mendapatkan lebih banyak cahaya ke dalam ruangan dengan warna yang lebih terang. Juga, bayangannya terlihat agak terlalu tinggi, mungkin membutuhkan harpa yang lebih pendek. Warna baru benar-benar bisa mengubah lampu ini.
Lemari Antik dengan Laci & Pintu Kaca Miring, $599: Saya suka lemari antik yang cantik! Jika saya tinggal di rumah yang lebih tua atau bahkan rumah baru yang tidak memiliki cukup ruang lemari, saya akan senang untuk melengkapi ruang lemari saya dengan salah satu keindahan ini!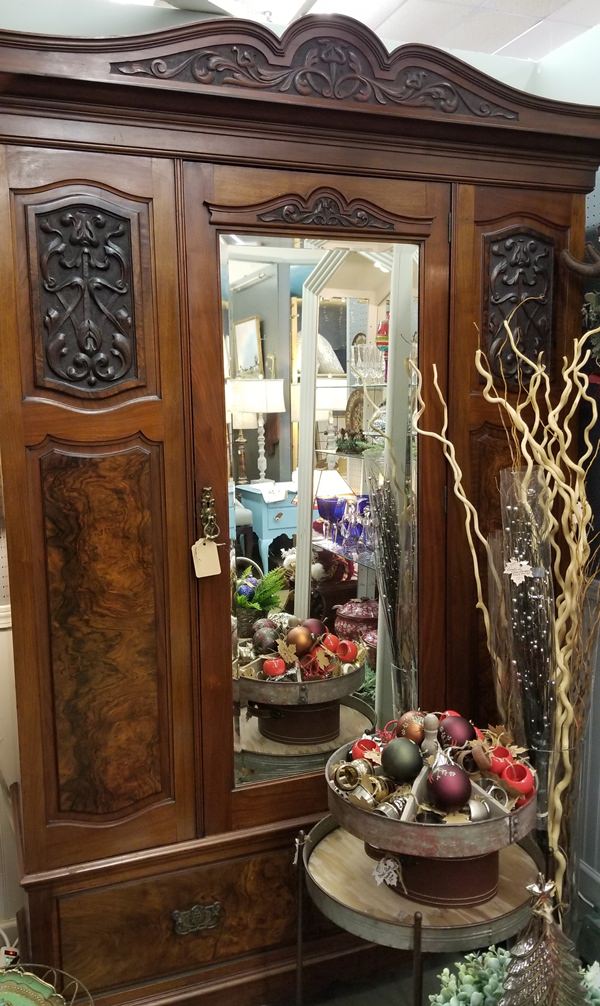 Di mana Anda akan menemukan keindahan ini dalam furnitur masa kini?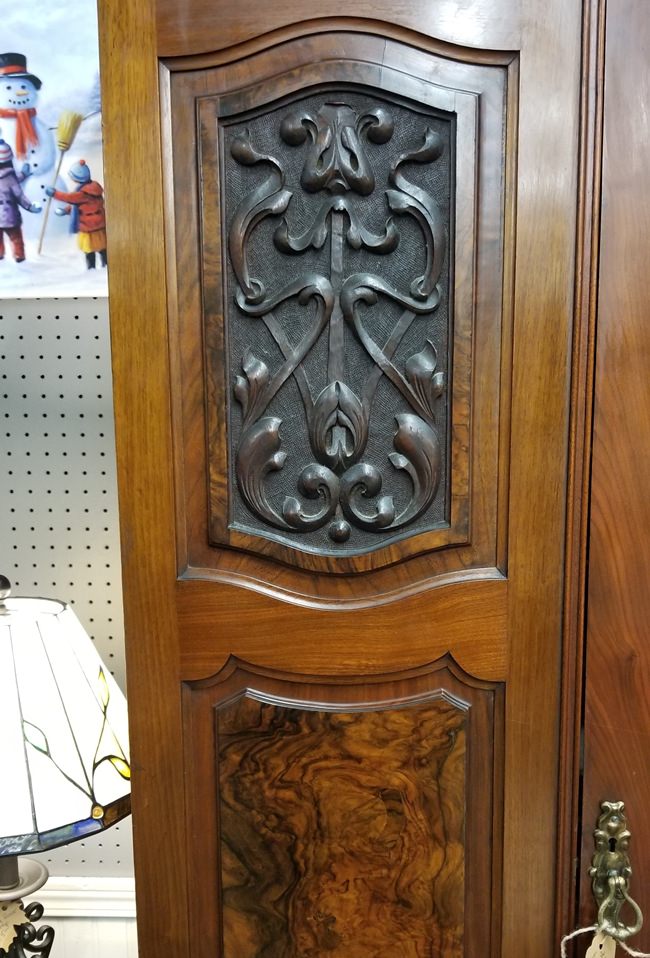 Lemari Pakaian Ceri Antik dengan Gagang Kuningan, $975: Lemari pakaian cantik lainnya! Cinta!
Wicker Bark Cart, $299: Saya tidak tahu mengapa saya selalu tertarik dengan gerobak bar. Saya pikir saya hanya ingin satu jadi saya punya alasan untuk menghiasnya. tertawa terbahak-bahak
Pada hari saya mengunjungi Queen of Hearts yang ada di dekat rumah saya (mereka memiliki beberapa lokasi) seorang seniman sedang bekerja di stannya membuat lukisan baru. Saya akan senang untuk hanya berdiri di sana dan menyaksikan dia bekerja.
Ini foto yang diperbesar dari gambar yang dia lukis. Saya ingin tahu apakah itu ditugaskan oleh pemilik rumah atau apakah itu hanya rumah yang dia cintai dan ingin dicat.
8 Kings Crown Cups, $23: Saya pikir harga untuk ini sangat bagus! Akan indah untuk menyajikan pukulan Natal atau Tahun Baru.
Antique Burled Walnut, 2-Piece Linen Press, 1.350 Lemari pakaian cantik lainnya…yang ini memiliki bagian yang rusak yang saya yakin bisa diperbaiki.
Bagaimana menurut Anda–menurut Anda pengrajin yang baik dapat memperbaiki ini?
Saya suka kaki di bagian ini!
Lemari Prancis Antik, $ 485: Lemari cantik! Saya suka pegangannya, desain talinya yang detail, tatahannya, dan kayu burl yang serasi dengan buku yang cantik itu!
Meja Rias/Prasmanan Prancis Antik, $425 (lebar 49 x lebar 20-1/2 x tinggi 35-3/4): Ini adalah lemari rias yang serasi – bagian yang cantik! Saya mencatat pengukuran untuk melihat apakah itu akan bekerja di samping tempat tidur di kamar saya, tapi agak terlalu lebar.
Bola salju ini sangat cantik! Barang antik sangat menyenangkan selama liburan Natal, saya suka melihat semua barang Natal.
Seprai dan handuk teh yang indah. Saya membagikan ini terakhir kali saya mengunjungi The Queen of Hearts.
Beberapa dari banyak wanita cantik yang saya lihat terselip di lemari…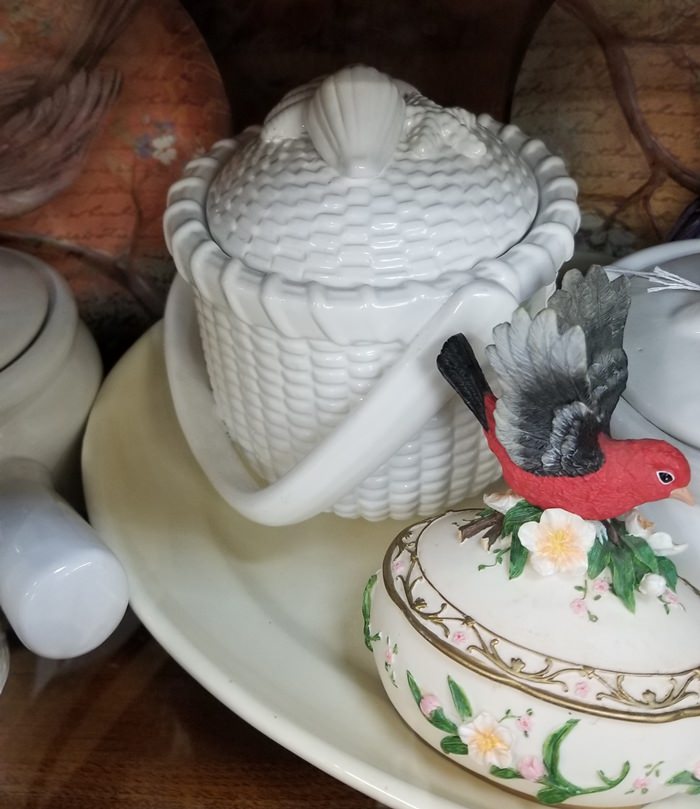 natal cina…
Mantel perapian yang indah… Ketika saya melihat mantel luar yang indah seperti ini, saya selalu bertanya-tanya tentang rumah di mana asalnya.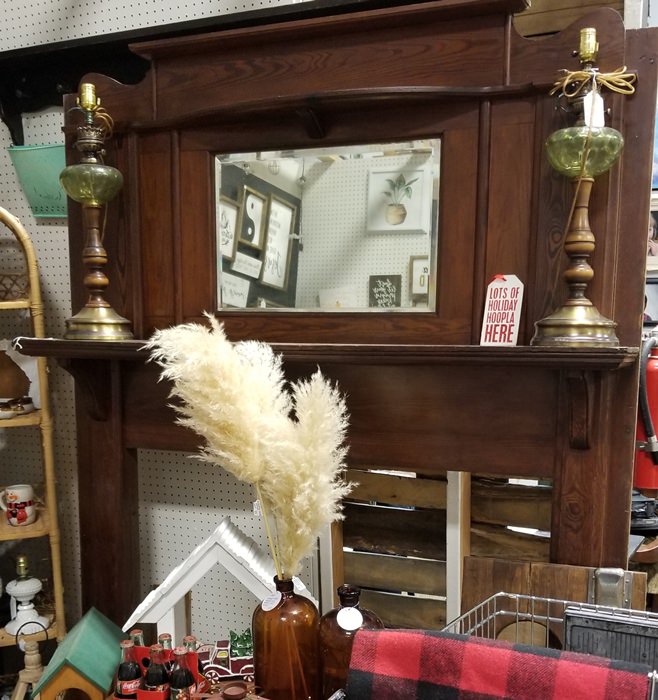 Rocket Plane Sled, $85 Sleds sangat menyenangkan untuk didekorasi saat Natal atau selama musim dingin. Kereta luncur ini akan lucu tergantung di ruang lumpur untuk musim dingin!
Alexander Magazine Holder, $195 Ini diberi label sebagai pemegang majalah tapi saya pikir ini awalnya dibuat untuk menyimpan musik. Sepertinya majalah akan terlalu jorok untuk berdiri di salah satu dari ini. Saya menyukainya meskipun-hanya akan menemukan kegunaan yang berbeda untuk itu, saya pikir.
Perayaan Natal Cina…
Tanda itu berbunyi, "Windsor oleh Gibson, Set 7 dengan Chop Plate, Melayani Mangkuk, Makan Malam dan Piring Salad, Mangkuk, Cangkir Teh, $130."
Pandangan lebih dekat…
Woodland Toile Plates, Andrea oleh Sadek, masing-masing $19.99. Piring cantik!
Mengintip ke beberapa stan lainnya…
Saya melihat beberapa piring makan antik Copeland Spode Tower di meja ini.
Anda mungkin ingat pernah melihatnya di beberapa tabel yang pernah saya bagikan sebelumnya.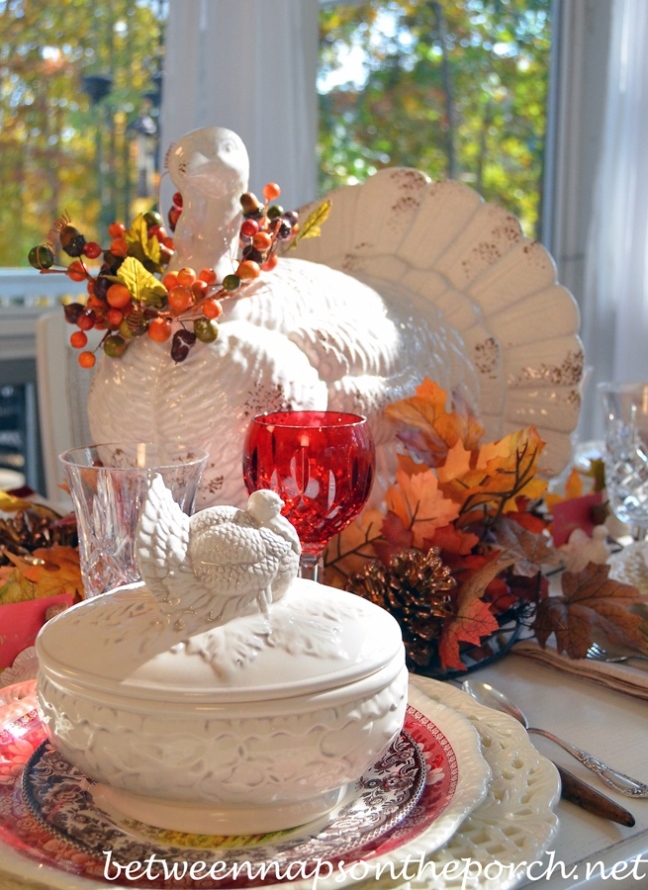 Sampai jumpa besok untuk Tablescape Kamis!
*Jika kiriman disponsori atau produk diberikan tanpa biaya, maka akan dinyatakan dalam kiriman. Beberapa tautan mungkin merupakan tautan afiliasi dan sebagai Amazon Associate, saya dapat memperoleh penghasilan dari pembelian yang memenuhi syarat. *
.